There have been changes in the management at TÜV NORD Austria: Oliver Eck has been appointed Managing Director of TÜV NORD Austria GmbH. He takes over the duties from Wolfgang Wielpütz, who has been jointly managing the business with Dr. Hans Strauß up to now. In addition, Isabella Kauf is to be the company's new commercial managing director.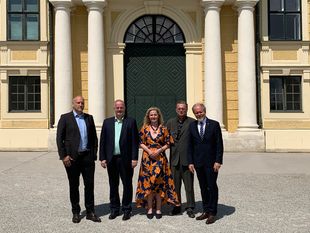 Oliver Eck joined TÜV NORD CERT in 2009 as auditor and project manager. In 2014, he initially assumed the position of deputy manager and later that of manager of the Food Profit Centre. He has been "Cluster Head Western Europe" at OBS Food&Agriculture for three years and will also continue in this position. In both functions, Mr Eck will be responsible for, among other things, active expansion of OBS in the future.

"With Oliver Eck, we have appointed our ideal candidate", Dr. Hans Strauß is pleased to report. "We have been working with him for a long time. As the food sector in Austria offers great growth opportunities, Oliver Eck will be a great asset for the team both personally and professionally". Oliver Eck lives in Bielefeld, is married and has three children.

Isabella Kauf has been working with Dr. Hans Strauß to build the TÜV NORD Austria since its foundation in 2012. Her responsibilities include auditing, sales, human resources and administration.