In April the OBS System Certification Cluster Managers met for the third official Cluster Manager Meeting in Kamp-Lintfort. For Hakan Sen and Robert Napitupulu it was the first such meeting and they were warmly welcomed. After opening the meeting Wolfgang Wielpütz gave an update on the strategy review in 2018 and reported on the financial situation. "Our Focus for 2019 is on strengthening international sales by new 'regional sales managers'. Furthermore we have to accelerate the roll-out of ISMS, MDD, Social Standards and Training", he pointed out.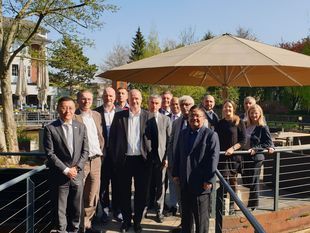 After his presentation each Cluster Manager reported on new products, new market trends, challenges, failures and an outlook for 2019 in their respective clusters. Of particular interest were this topics:
Organizational changes: TÜV NORD Austria moved from Cluster D-A-CH (now becoming Cluster D-CH) to Cluster South East Europe (SEE) and International Climate and Environmental PC moved from Cluster SEE to Cluster Central Europe North
Medical Devices: The department sends out specialist mailings (newsletters) in German and English to the existing customers. Currently a very popular topic: Conversion MDD to MDR - here we keep our customers regularly informed about the status MDR is. Other current topics are transition periods, various surveys, e.g. on production-free times, which we need for our unannounced audits, MDSAP, Price adjustments etc. The mailings are stored and can be forwarded at any time. If you would like to send this information even to your customers, feel free to contact Narin Ufak: nufak@tuev-nord.de
The new product TISAX (Trusted Information Security Assessment Exchange) has been developed for clients in the automotive sector and is now being rolled out internationally within OBS SC.
International Sales: Accelerating sales growth with international customers is furthermore a key pillar in the strategy of OBS SC. Each cluster shall contribute setting up and maintaining a sales funnel of targetable clients, which is a key issue of PD Group 1 Sales and Marketing.
Training: Highly automated platform on e-learning content should be operational in September 2019
Aviation: Within the aviation sector an increasing number of certificates is observed. TÜV NORD shall take advantage out of this opportunity. Approaches to strengthen our aviation business for regional and international clients have been presented.
In conclusion, these objectives have been set:
MDD, social standards, IT, Training and Aviation: strengthening and extension of the business
Training as marketing tool
Improvement of global Communication.
Under the motto "United" more than 90 participants from all over the world met for the 4th Certification Days in Kamp-Lintfort. "The meeting follows the path taken to implement the topics of digitization and innovations together with the accreditation authorities and thus to meet the customer requirements in the age of industry 4.0. Especially the standards for digitization and functional safety must be offered in an internationally recognized way", says Dr. Klaus Oberste Lehn, who invited as patron of the event. Keynote speakers included Christoph Winterhalter, President of DIN e.V., Dr. Stefanie Vehring, Accreditation and Standardization (VdTÜV), Hans-Georg Niedermeyer, Head of the Central Office of the German States for Security Technology (ZLS) and Bernd Wittenbrink (BDI). All four of them praised the international exchange and the well-founded lectures held by a representative from the national/international certification business.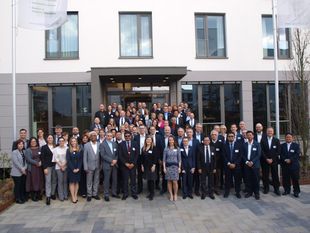 During the Certification Days, the topics of accreditation and regulation management (GARM) of the Industry Service division could also be discussed with the heads of OBS System Certification, Food/Agar, Manufacturing Technology, Renewable Energies and Process Technology. The representatives of the certification body will continue to be responsible for the harmonized implementation of these two topics within the companies. "The Certification Days have been established as an integral part of quality assurance within TÜV NORD CERT and - thanks to Bold Move - now also serve other OBSen as an international exchange of experience", said Boyana Tosheva, who organized the event.