Since the start of BOLD MOVE we all belong to OBS System Certification. Together with our colleagues in China, India, America, Asia and many other countries, we now work on an increasingly international basis. Yet which areas does OBS System Certification actually cover and who works where? In order to give you an overview, we would like to introduce some of the specific clusters here in this and forthcoming editions, in our "BOLD MOVE" section. This time around, we are looking at the cluster "China" with Haining Song at the helm.
Haining Song has worked for TÜV NORD for 15 years and now heads the China cluster in the OBS system certification. The native of Shanghai is married and has a son. In his free time he likes to go swimming and running.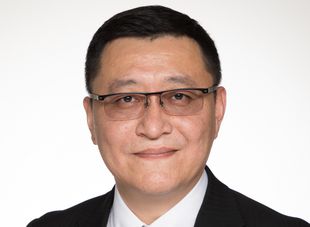 Mr. Song, please describe your previous professional career in a few sentences.
After my MBA I worked as a system certification consultant. I joined TÜV NORD (RWTUV at that time) in 2000. In 2010 I left TÜV NORD and joined a car components manufacturer as Vice President. I rejoined TÜV NORD in September 2012 and now head the cluster China.
Please tell us the most important facts about your cluster.
I have a total of 80 employees in China. 40 of them work for TÜV NORD Hangzhou in Shanghai, 30 work in Guangzhou and 10 work in Beijing. They offer all TÜV NORD system certification services throughout China. IATF16949 and BSCI in particular are popular services here. Furthermore TÜV Nord Taiwan belongs to my cluster. In the area of system certification there are currently 29 employees. By the end of 2017, about 2,500 certificates were issued by TÜV NORD China and 480 certificates issued by Taiwan.
What are the main challenges for you?
Our main challenge is to keep the balance between business development and risk control. China is the biggest market in the world, which means there are huge system certification market opportunities, and this means we have a lot of opportunities for business development. On the other hand, CNCA (Certification and Accreditation Administration of the People's Republic of China) controls the certification market and all certification bodies in China, as well as issuing many regulations regarding the certification business. This means potential risks for all CBs. We always seek to balance business development and risk control.

The second challenge is the Auditor shortage in 2018 due to the transition rules of IATF 16949. The automotive certification standard ISO/TS 16949 was changed to IATF 16949. At the same time the IATF 16949 transition rules determined that all previous ISO/TS16949 certificates must be converted to IATF 16949 by 14.09.2018 through recertification audits. It means all audit types of ISO/TS 16949 in this year are due for recertification, i.e. more man-days are needed this year. However, we cannot hire enough TS auditors, so the shortage of automotive auditor resources is our challenge in this year.
From your point of view: What are the most important changes since the beginning of BOLD MOVE?
I would like to mention the five most important points:
A more global range
Improved efficiency
Higher quality
More customer orientation
More stable customer loyalty
Our employees are increasingly aware of the changes since the beginning of BOLD MOVE. In February OBS SC China had a team-building event which involved climbing the Mount Huangshan, one of the four great mountains of China. This was the first time that all members of System Certification from all the Chinese regional offices came together. According to Chinese tradition climbing at the beginning of a year implies everything will be better in future. Through this activity, everyone became aware of the achievements of OBS SC China in the past year, as well as feeling the benefits of the BOLD MOVE.

Thank you very much for the interview.