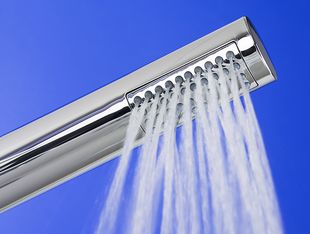 TÜV NORD holds regular exchange of experience events on building services engineering and technology, where we offer recommendations for the safety of your buildings based on the legal requirements.
For owners of large-scale water heating installations, the German Drinking Water Ordinance (Trinkwasserverordnung) specifies the duty to test for the presence of legionella.
Large-scale installations are defined as storage potable water heaters or central throughflow potable water heaters with a capacity of more than 400 litres or 3 litres in each pipeline between the heater and the take-off point.
This means that almost all apartment blocks with a centralised water heating system are affected by the new regulations.
In general, owner-occupied houses and all houses with only one or two residential units are not affected. However, cases of non-compliance where analysis is mandatory incur heavy penalties.
In addition, claims for compensation can be made against those responsible for the system if residents' health is damaged by impure water. Further information, particularly regarding the prevention of legionella, can be found here. Drinking water of consistent quality must be made available to the population, and water supply companies expend a great deal of effort in their processing plants in order to ensure this. But in the pipelines which take the drinking water to the consumers, unwanted changes can occur possibly because of faulty installation. These changes also encourage an increase in pathogens that can cause infection. These generally occur in the form of bacteria, such as legionella and pseumonads.
Creation of an optimised sampling plan according to the new German drinking water ordinance TrinkwV for chemical and microbiological analyses, based on your monitoring requirements
Qualified sampling and chemical/microbiological analyses (e.g. for legionella) in our own laboratory, accredited to DIN EN ISO/IEC 17025
A reliable report, recognised by official bodies, provided in our capacity as a listed analysis and testing body according to § 15 Abs. 4 TrinkwV
Evaluation of the substances contained in any specific water supply and determination of risk factors
Support with on-site inspection and risk analysis of drinking water installations (questions relating to legionella)
Inspection of remediation
We base our work on the current version of the German Drinking Water Ordinance. We also take the technical standards of the DVGW - German Technical and Scientific Association for Gas and Water into account Deutschen Vereins des Gas- und Wasserfaches e.V.
Why are legionella bacteria dangerous?
They can cause serious, atypical inflammation of the lungs, often with a fatal outcome, and can also lead to Pontiac fever, with flu-like symptoms.
They are often initiators of infections caused by incorrect operation of plumbing installations involving drinking water
They occur, for example, in hospitals, hotels and swimming pools, in other words, in places where there a large number of People
The multiply very rapidly in heated, stationary water between 30°C and 45°C
Our state-accredited experts examine complete piping systems and take samples. Analysis and evaluation of samples is performed by an experienced team of microbiologists, chemists, engineers and technicians in cooperation with our own accredited inspection body for biological safety.