Do you have any questions or comments? Contact us!
We will be very happy to answer your questions.
Non-stop logistical services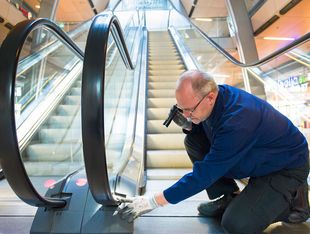 Modern technology and reliable functionality ensure the transport of people and goods.
For escalators and hoists, we ensure good running; for cranes of all types, we ensure safe load capacity.
They are a hallmark of many large lake and river ports: The phalanx of countless huge cranes in the loading terminals is always an imposing sight.
Every hour, container ships from all over the world drop anchor.
General, suction, and grabbable cargo must be unloaded as soon as possible – the meter is ticking, the next flood is just on the horizon. As in airports, industrial plants, and mining, every minute counts for the conveyor technology.
Logistics is in great demand and requires the total functioning of individual components.
The heart of the matter: Conveying and being conveyed
Coal, ore, and salt mining brought about some of the first advances in conveyance. Mines and collieries quickly adopted the most effective conveying equipment: Lifts, cages, and moving bands. Today, in transport a distinction is drawn between piece and bulk goods, with the different forms of manufacturing, movement, and also storage. Logistics that would be unworkable in the absence of material handling systems, machinery, and equipment. Components such as cranes, ropes and hoists, conveyor belts, wheels, and rails are just as much a part of this as as engines and brakes.
Our Services
Testing of:
Elevated parking
Power-operated doors and gates
Cranes
Storage and retrieval units
Load-carrying equipment
Industrial lorries and forklifts
Escalators and moving walkways
Lifting and aerial work platforms and loading bridges
Cableways, portable buildings
and playground equipment
For transport processes in Germany and abroad
Among our areas of expertise are transportation systems, including continuous and sorting conveyors, trolley conveyors, and industrial lorries. We assist you in the planning and development, design, manufacture, and assembly, as well as operation and maintenance, of conveyor components. We optimize the transport processes and help you to reduce both operating and energy costs. We also support you in the preparation of damage and casualty assessments and provide advice on the construction of large plants. In Germany and abroad.
icon_left
icon_right
icon_info