Major orders from international customers have contributed significantly to the further growth of the OBS system certification. Three major orders alone generated an order volume of over two million euros in the first half of 2019. Such large orders involve a great number of audits according to different standards at locations throughout the world. In accordance with the customer's wishes - and thus an important sales argument - we provide well-positioned project management with the necessary tools to carry out these audits efficiently and in a structured manner. Martin Saalmann's department "International Projects" in the Cluster Business Development & SEE specializes in project management for large orders.
Which projects come into question?
All orders in excess of approx. 100,000 euros per year with locations worldwide fall into this category. Each major customer is assigned a senior project manager and a project manager. The senior project manager is usually a PC manager. Daniel Gdaniec, Kevin Mühlenberg, Sergej Friesen und Mehmet Aydin work in the department as project managers.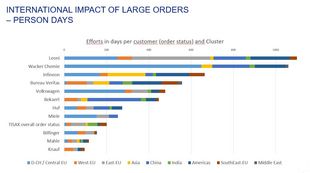 Tasks of the project managers
The project managers are both the interface to the customer and, internally, the interface to all relevant actors. They do the calculations for tenders, plan the audits, subcontract foreign auditors and carry out the complete project management. They also maintain the customer's SharePoint and audit tool. All essential documents are stored on the SharePoint and the audit tool shows the status of the audits. In this way, the customer can see the project status at any time.
"So far we have received a lot of positive feedback both from customers and from auditors responsible for the project," says Martin Saalmann. "Anyone who is interested in finding out more about project management for major customers is welcome to contact me".