The Corona crisis has presented us all with unprecedented challenges. We asked Wolfgang Wielpütz, head of OBS System Certification and Managing Director of TÜV NORD CERT, what measures TÜV NORD has taken in order to carry out audits, what the current situation is and how things might continue in the coming months.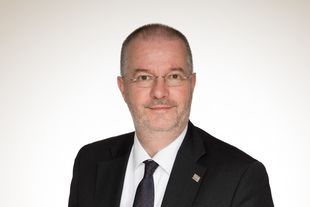 How have you experienced the Corona crisis to date, both professionally and privately?
Challenging. Practically overnight our social and economic life came to a standstill. We have set up a crisis management team within the company and reassess the situation almost every day. The top priority is always to protect the health of our employees, customers and business partners – at home and abroad - and to determine appropriate measures. Of course, we must also find ways and solutions to keep the business operating under the given circumstances.
Not being able to meet family and friends due to contact restrictions was not easy, especially in the early days. I also had to get used to wearing a face mask. On more than one occasion I left the house without a mask and had had to return home. But in the meantime grabbing my mask has become part of my routine when I'm going out.
What is the reaction of your customers so far? Have many audits been cancelled?
As the first Corona cases came to light, our audits initially continued as usual. With the increased number of cases and the increasing measures taken by governments, the situation changed abruptly for us as well. Numerous audits had to be postponed. However, since in most cases a postponement is only possible for a maximum of six months, remote audits have proven to be a good alternative worldwide. In Germany, for example, we were able to carry out around a third of all examinations remotely in April. In other countries, this figure is significantly higher. This is also possible because most accreditors have adapted their specifications to the specific situation and have significantly increased the proportion of audits that can be carried out remotely.
How do the remote audits and digital training courses work in Germany and in the national companies?
We are very satisfied with how well remote audits have been accepted - both by our auditors and by our customers. And that has been the case in all national companies. In this way, many audits could be carried out remotely instead of on-site. More and more training and education courses are also being offered digitally worldwide. And last but not least, more and more global meetings are being held remotely - such as the large Cluster Manager Meeting, which was held completely remotely for the first time. And we have noticed that all this works very well. These are important experiences and valuable new tools, some of which we will continue to use after the Corona crisis.
So is this crisis also an opportunity for digitization?
As bad as the situation is - digitization is suddenly gaining in importance. Companies that are already highly digitized now have a clear advantage. Those that aren't now have to deal with digital technology practically overnight. And the vast majority of them realize that it works. Audits can also be carried out successfully from a distance. Working from home also works. We all agree that this should not be a permanent state. But I think some of it can be taken away for the time after Corona.
Another issue that everyone is currently talking about is protective masks: TÜV NORD has recently started testing protective masks arriving from China.
Yes, that is correct. Due to the current very high demand for protective material, the need to inspect such goods is also increasing. The incidents of unusable or defective respiratory masks have been widely reported. We have been commissioned by the Federal Ministry of Health (BMG) to inspect and test protective material imported from abroad, especially respirators. The aim is to bring urgently needed protective material quickly to the market using a simplified test procedure. The testing chain starts at the production site, mainly in China, and ranges from laboratory testing to distribution to medical facilities in Germany.
No one can look into the future. But your personal assessment: What does the future hold?
The developments of recent weeks make us more optimistic, at least for Germany and several other countries. The number of infections has fallen and many measures have been eased. In a step-by-step plan, normal operations will be resumed gradually throughout the GB-IS. In the OBS system certification, many postponed audits will have to be made up for in the second half of the year. Nevertheless, it will certainly take some time for all parts of TÜV NORD GROUP to overcome this crisis.