In addition to an OBS cluster, we also present an OBS profit center (PC) in each issue. This time we are introducing Stefano Porelli, head of the PC "Italia" in the cluster "Western Europe". The 50-year-old native of Bologna, Italy, is married and has a 13-year old daughter. He likes to spend time with his family and always goes to support his daughter in her synchronized swimming competitions. He also enjoys playing basketball, listening to blues music and traveling during the holidays.
Mr. Porelli, you have worked for TÜV NORD for 15 years now. Which positions have you held?
After my BA in Electronic Engineering with Minor in Management at Bologna University I worked in electronic industrial companies and in the TIC Sector as an enthusiastic Quality Manager and Management Engineer. 2003 I joined TÜV NORD Italia and started as Head of Operations - System Certification Area, Quality Manager and IRCA ISO 9001 Auditor. Since the beginning of last year I have headed the system certification department in Italy.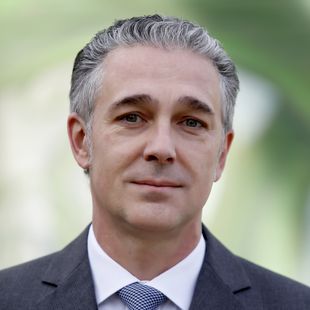 What are the main tasks for you?
I have 10 internal collaborators and 70 external auditors and experts. Together we achieved a turnover of about 1.8 Million Euro in 2017 which meant we had an increase of 48 percent over three years. My tasks include the development of new projects, training areas and key customers, such as the recruitment and training of new resources and auditors. I'm responsible of the budget, KPI and strategic targets. Furthermore business development, sales & marketing management and inter-group collaboration with subsidiaries in several countries fall within my remit.
What are the main challenges for your profit center?
TÜV NORD Italia's market share is stable, but very small (<1%). Our main challenge is to consolidate and expand our position by improving the customer experience & service tools, keeping the clients (backdoor closed) and using training as a marketing tool. Investing in (internal & external) sales & account management (quality & quantity) and training of people is another major challenge. We have to be more and more competitive by developing and offering innovative services.
What services do you offer?
Mainly we offer certification and training, in particular: ISO 9001, ISO 14001, ISO 45001, ISO 50001, ISO 27001, FSC, PEFC, SA 8000, IATF 16949 and ISO 20121.
What do you like best about your work?
I strongly believe in teamwork and open leadership. I like to build and to grow the business with passion. I am happy with and proud of all members of the System Certification Team. I am convinced that OBS System certification will successfully implement its strategy and planning and I think that the "Bold move" will be a major factor in helping us to develop our business internationally especially with regards to our global key Customers. And I'd like to do my bit in this process.

Thank you very much for the interview.