Dear colleagues,

2018 was the second year of the OBS System certification and once again it was a very successful year. Sales grew from 108.2 million euros in 2017 to 114.4 million euros in 2018. While this was below plan, it was still an increase of 6.3 million euros. Turnover was weak in the month of December but profit was still excellent (better than budget and better than the previous year). So our profit margin is now nearly 11 percent - one percent ahead of budget and nearly two percent better than the previous year. This shows the excellent potential of System Certification services in most regions of the world.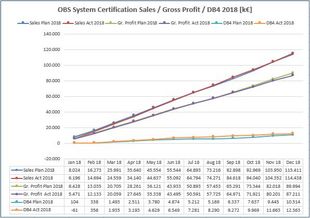 Many projects were launched in 2017 and continued successfully in 2018. The project- and decision groups met regularly; new groups were established. The international sales department won new global contracts with top DAX clients obtained. The intensification of new market entries was also successful: In Japan we were able to conclude a cooperation agreement with JQA, and in Singapore we opened a new subsidiary of TN Thailand.

For 2019 and 2020 the main measures will be:
Relaunch or closing Southern Africa, South Korea and/or Scandinavia
Better profitability or better growth in Germany, China and The Netherlands
Reduction of Overhead Costs in Germany and Western Europe
Strengthen International Sales: Add activities in each Cluster / Strengthen Sales Automotive and MDD
Accelerate New Market entries
More M&A; at least one project per cluster per year
Accelerate Roll-out of new products by special budgets: ISMS, Social Standards, Training and Sustainability.
I'm looking forward to sharing continued success with all of you this year!

Yours
Wolfgang Wielpütz