TÜV NORD Singapore, a subsidiary of TÜV NORD Thailand, was founded one year ago and has developed very well since then. Despite its small size, the market for technical testing, inspection and certification in Singapore has a volume of over 200 million euros per year. And: Singapore relies on industry 4.0 and artificial intelligence in the high-potential ASEAN region.
Several internationally active certification companies are based in the financial metropolis of Singapore. Important industries are export and import, oil and gas, logistics, finance and IT. It is home to the regional headquarters of many large companies and there is good access to the Southeast Asian market, not least due to the strong port economy.
TÜV NORD Singapore (TNSG)
Since its foundation in November 2018, TÜV NORD Singapore (TNSG) has won a number of well-known customers from various sectors. Under the leadership of Gaurava Mishra, strong and sustainable relationships have been established with local agencies and international offices, including the Singapore Manufacturing Federation and the Singapore German Chamber of Commerce. TÜV NORD Singapore's small but impressive team consists of people with a variety backgrounds and experience, providing a mix of technical expertise and entrepreneurial understanding.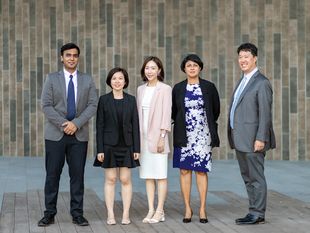 With its sophisticated and methodical approach, TNSG has won several clients in lucrative segments such as automotive and semiconductor companies for niche and highly specialized services such as ISO 26262 (Automobile Functional Safety), ISO 14064 (Green House Gas Verification) to name but two. TNSG is strongly focused on maintaining a strategic position in the market. To do this, it takes advantage of the gap that is often overlooked by larger CBs and beyond the reach of smaller TIC companies. TNSG also offers training courses such as VDA, FMEA and energy efficiency, which have also gained considerable momentum in recent months. Management is reviewing both organic and inorganic growth options for expansion in the country and is also considering strategic steps such as establishing a competence center there.
Visit from Dr. Dirk Stenkamp
In October, Dr. Dirk Stenkamp, CEO of TÜV NORD GROUP, visited the TNSG office and expressed his pleasure at the successful establishment of the Singapore location. At the "Meet the CEO" event, he spoke with executives from various companies and authorities as well as government representatives on the subject of "Digital readiness for your customers and employees". The event was organized by TÜV NORD Singapore and the Singapore German Chamber of Commerce. Dr. Stenkamp also met the employees of the TÜV Nord SEA Cluster who were in Singapore for the OBS System Certification Conference.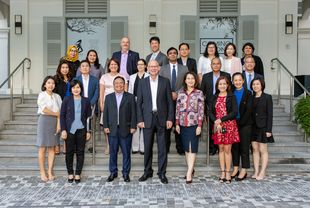 Participation in the ITAP
At the end of October, TÜV NORD was also represented for the first time at ITAP (Industrial Transformation ASIA-PACIFIC) in Singapore. The leading trade fair for industry 4.0 in the Asia-Pacific region brings together globally active manufacturers, authorities and companies and provided further interesting contacts for the future.
TNSG Country Head Gaurava Mishra is proud of the development and expressed his confidence in the future of the operation: "In Singapore we have the potential to become one of the most successful and fastest growing centers in the Southeast Asian cluster; it's only a matter of time". He quotes a famous proverb: "Nothing is impossible for the willing minds".