In addition to an OBS cluster, we will also present an OBS profit center (PC) in each issue. We will start with Nimish Agarwal, Head of the TUV India Training Academy.
Mr. Agarwal, first of all welcome to TÜV NORD. You have been working for the company for three months now. What did you do before?
Thank you. I first graduated in commerce, then went on to earn an honour's diploma in Sales and Marketing, and finally I gained my post graduate diploma in Business Administration. I am also a certified examiner for school accreditation with the local accreditation body (NABET).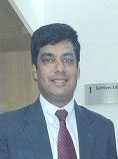 You are building up the TUV India Training Academy. What are the main tasks of the new profit center?
TUV India started the first training activities in 2006. With the organisation's vision and business sustainability in mind, the training program was further developed and grew over time. And thus the TUV India Training Academy was founded, and officially opened on 1st April 2017. 25 employees now work in the Training Academy, supported by trainers and associates. Our main tasks are market surveys and the development of training modules as needed based on the target market. The profit center is also in charge of promoting training services and planning and delivering them across the country.
What kind of training do you offer?
We offer following types of training services:
Management System Programs
Quality Improvement Programs
Supply Chain Management Programs
Lean Management Programs
Programs on Safety
Programs for Food Industry (FSSC / FSMS/ Hazard Analysis and Critical Control Point, Microbiological Technique in Food Analysis)
Training & Certification Program on Functional Safety
Program for IT Industry (ITSM/ ISMS/ BCMS etc.)
Programs on Behavioral & Soft Skills
Program on Energy like EnMS, 14064
Program for Oil & Gas Industry (PED / Welding / ASM Guidelines)
Training & Certification Programs on VDA 6.3
Because we offer such a wide range of training courses, nearly all departments can benefit from our services. Our clients come from all sectors, including Quality, Production, Safety, Engineering and Sales and Marketing.
As part of the expansion, TUV India Training Academy is planning to further develop their service to include Personal Certification (ISO 17024), E-Learning and Skill Development Projects.


Thank you for the Interview!