TÜV NORD CERT has received DAkkS accreditation for ISO 37001 certification. ISO 37001 is an international certification standard for anti-corruption management systems. This makes TÜV NORD CERT the third body in TÜV NORD GROUP, alongside Greece and Brazil, to offer this certification worldwide.
Anti-corruption management is one of the great challenges of the future. In 2016, the ISO organization adopted the ISO 37001 standard, and demand is high. Especially companies in Southeastern Europe, South America and Asia seek to be certified either based on local or an internationally recognized accreditation. In order to be in a position to meet this demand, TÜV NORD CERT applied for accreditation with the German Accreditation Body GmbH (DAkkS).
With the support of TÜV Hellas, the Accreditation Management Team of the certification body prepared for the assessment, which took place at the highest level. In addition to a DAkkS assessor, the internationally recognized expert Dr. Jean-Pierre Méan also examined us. Our application was successful and the accreditation was granted. This means that we can now offer our customers worldwide ISO 37001 certification under both local and DAkkS accreditation.
The response to our certification service has been very positive. After only six months, over 15 orders for DAkkS-accredited certification have been received in Bulgaria and Greece. The first customers have already been certified. Udo Kubitz, Cluster Manager Business Development and South-East Europe, recently presented the ISO 37001 certificate to one of those customers, the administration of the Sofia region in Bulgaria, following a successful audit by TÜV NORD Bulgaria.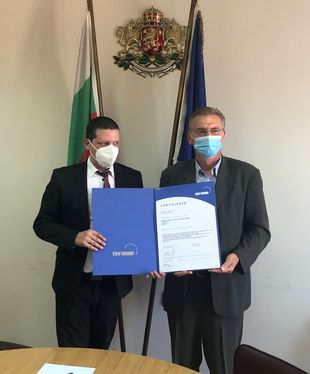 Contact: Dr. Ortrun Janson-Mundel, Dr. Klaus Oberste Lehn, Udo Kubitz and Martin Saalmann