The OBS System Certification Strategy 2025 provides for growth and a further establishment in essential core markets. This includes the Americas cluster. With its PCs Argentina, Brazil, Mexico and USA, it operates in a market with great economic potential. Against this background, TÜV NORD Argentina conducted a study of potential new customers (leads) in the Latin American market during the first half of 2020.
The search for leads was based on the following criteria:
1. the lead should be present in at least two countries in the Americas region
2. the headquarters should be located in the LATAM region
3. the management system should be certified for at least two standards.
A project group led by Nicolas Franke was formed to scan the Latin American market for suitable companies in a total of 40 EAC Scopes. Each team member focused on seven specific EAC Scopes and identified related leads that meet the above criteria. In a first step, key company data such as company name, location of headquarters, locations of branch offices, number of employees and annual sales in the previous year were collected. In a second step, this data was refined in terms of address, certified standards, contact details, etc. As a result, a list of 130 LEADS was generated, with each lead having an average of three identified branches in the Americas region. Thus, this list comprises 408 company locations.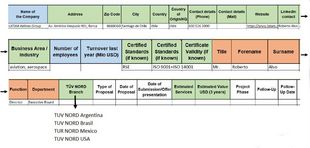 In phase two of the project, which is currently underway, these leads are to be followed up by a cross-national team. For this purpose, sales employees from the Americas cluster are working together with PC International Sales & Marketing. Since each lead consists of a main location and associated branches in neighboring countries, the processing is carried out in a team approach. A sales manager is assigned to the lead's main location and is responsible for the entire lead as the "key contact country of origin". He is supported by his sales colleagues from neighboring countries, who act as "key contact local country" in the country of the respective branch of the lead. PC International Sales provides support in the form of marketing and sales documents and the necessary material for preparing quotations. Information can be exchanged and existing local contacts and local sales opportunities can be used for an optimal sales approach. The work on this has started - we will report on results and experiences in one of the next issues of the OBS SC Newsletter.
"I see the LATAM market study as an exciting project which, in addition to the intended acquisition of new customers, promises to promote sales cooperation throughout the Americas cluster and beyond as an additional benefit", says Dr. Gerhard Dreier, Head of International Sales & Marketing.

Nicolas Franke, Project Manager LATAM Market Study, is also delighted with the project. "LATAM leads project has been a great opportunity which brought TNAr's s sales team closer together under the challenging pandemic context, and will certainly bring us together within TÜV NORD subsidiaries in America´s region, moving forward towards a corporate leads sales strategy".