You all know him: Shrikant Kulkarni spent 21 years at TÜV NORD. Most recently he headed Certification, Training and Sustainability Business of TÜV India, was Senior Vice President for Certification, Training and Sustainability as well as Quality Manager in India and also headed the Cluster India in OBS SC. He retired on 31 August, leaving numerous traces in our company.
Shrikant Kulkarni contributed to TÜV NORD becoming a leading and respectable player in the Indian market and TÜV India achieving a respectable position within the TÜV NORD GROUP. He succeeded in establishing a competent team for certification processes and accreditation management in India. Under his designation as QMR, the Indian TÜV NORD national company was designated as a Critical Location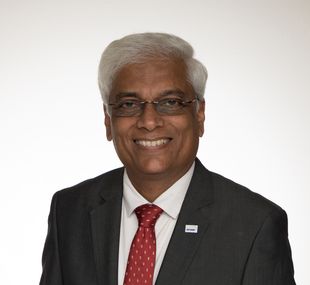 for various standards and can therefore work the market almost autonomously under German accreditation. Very good results were regularly achieved in on-site assessments by the German authorities in India. During his time at TÜV NORD, Shrikant Kulkarni received numerous awards, as the "TÜV NORD CERT Award of Excellence" (2017), "QMR of the Year" (2018), "TÜV India Certificate of Excellence" (2018 and 2019) and "Life Time Achievement Award" (2020).
Mr. Kulkarni, you were with TÜV NORD for a total of 21 years. What moments in particular have remained in your memory?
21 years is pretty long period to work with an organization. There are countless memories and it is really very difficult to single out a few of them. I worked with manufacturing industries for 19 years and then decided to change the field so everything was different for me when I joined RWTÜV as an auditor. Those initial few years I spent learning this profession were memorable, visiting new clients everyday with various senior auditors was a great experience. Then the phase of managing the accreditation as well as business started. Facing new challenges, handling big clients, handling teams are all things which I will never forget. The most enjoyable part was bonding with clients, auditors and the back office team and, of course, with TN CERT team in Essen. There were many, many moments of achievement, appreciation, happiness and also some very stressful times. But if I have to mention a few then the success of TN CERT and TÜV India will always be dear to me apart from my achievements.
You have now been retired for two months. How are you experiencing this new phase in your life and what are your plans for the future?
To be very frank I am still trying to acclimatize to this freedom after 21 years or rather 40 years of a fast-moving and busy professional life. The most important thing for me is to be in touch with our profession and share my knowledge and experience. So, initially I will continue to support TN CERT and TÜV India as and when needed. I have lot of other things to do now - personal tasks, family tasks, some pending wishes, hobbies, leisure travel and so on. Off course staying healthy is the top priority in this time of COVID-19.
We all thank Shrikant Kulkarni for his great commitment and wish him all the best for the future!