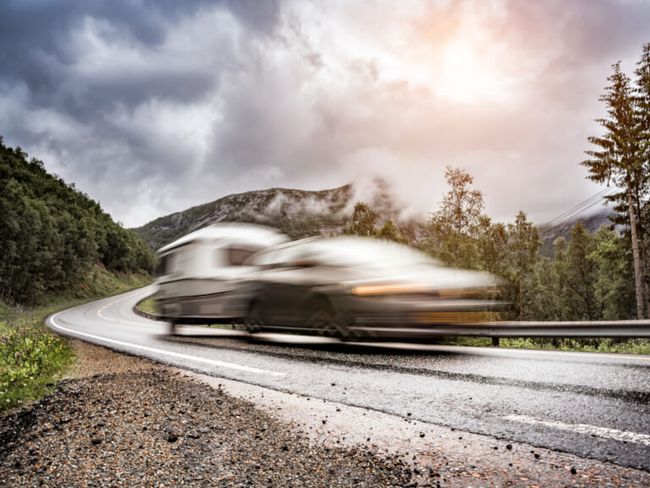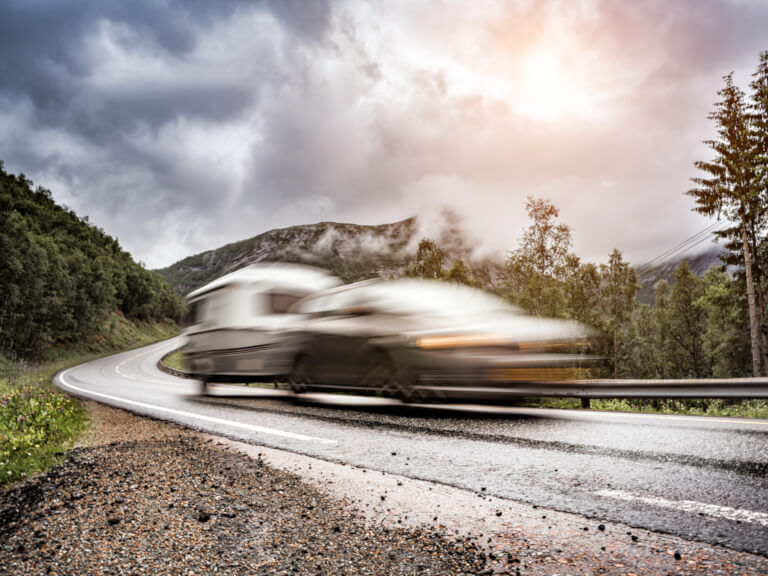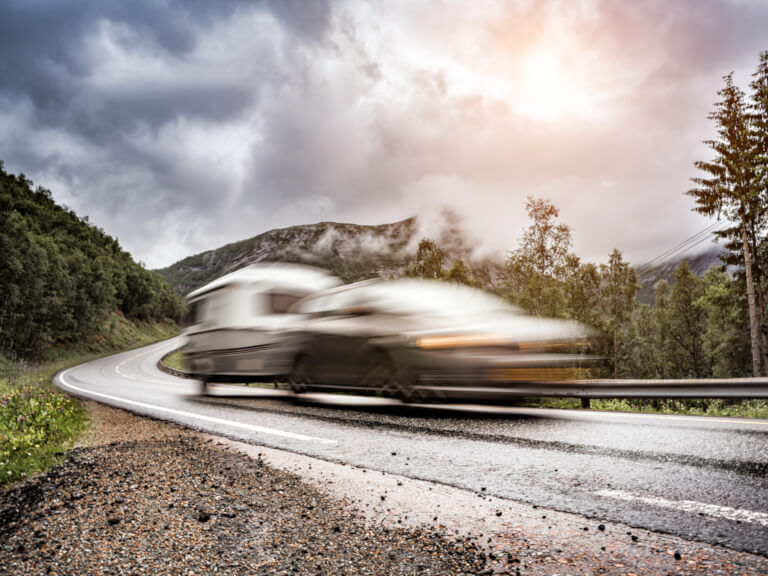 Anyone who wants to get off to a speedy start on their caravan holiday should apply for a "Tempo 100" permit. This permit allows you to drive at speeds of up to 100 km/h on the motorway instead of the usual 80 km/h. But keep in mind: even when a trailer or caravan is eligible for Tempo 100 according to the vehicle documents, the towing vehicle also has to fulfil certain conditions.
The ideal conditions for reaching your destination quickly
Generally, a speed limit of 80 km/h, or Tempo 80, applies for trailers. Those who wish to drive faster can now have their vehicle and trailer assessed for suitability at any TÜV STATION. On successful completion of the assessment, you receive a confirmation which you can take to your local vehicle registration authority in order to receive a Tempo 100 sticker. These rules for the Tempo 100 applies for
passenger cars and
other multi-track motor vehicles (e.g. caravans) with a gross vehicle weight up to 3.5 t
Vehicles and trailers have to fulfil the following criteria:
Your car must be equipped with ABS
The trailer is suitable for a maximum speed of 100 km/h
The trailer tyres are designed for Tempo 120 and have at least speed index L
The tyres are no more than six years old
You have to comply with specific weight proportions between the trailer and the towing vehicle. Load the trailer in such a way that the maximum permissible towbar load of the combination is almost reached. Make sure that you do not exceed the permissible towbar load of the towing vehicle or that of the trailer. Reason: You significantly improve the manageability of your combination with a high towbar load.
The permissible laden weight of the trailer may not exceed any of the following three values:
The total towing capacity of the towing vehicle
The permissible laden weight of the towing vehicle
The product of X • unladen weight of the towing vehicle Factor X consists of one the following values, depending on the technical equipment of the vehicle:
Technical Equipment of the Trailer

without hydraulic shock absorbers
with brakes and hydraulic shock absorbers
Caravan
Other Trailers
0,3
0,8 bzw. 1,0*
1,1 bzw. 1,2*
The values marked with "*" (asterisk) may be used if:
the trailer is equipped with a suitable coupling with stabilising device or
the trailer is equipped with a suitable dynamic stability system or
the towing vehicle is equipped with a suitable dynamic stability system for towing (this is stated in the vehicle registration document).
If these legal requirements appear somewhat complicated, why not talk to us? We will be happy to advise you.