Do you have any questions or comments? Contact us!
We will be very happy to answer your questions.
Liftoff – Through the world's tallest building at 60 km/h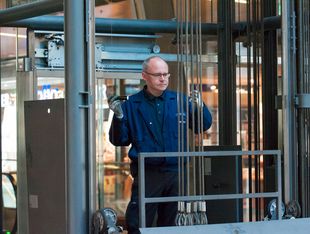 The Operational Safety Ordinance requires passenger lifts to be examined regularly. But also goods: They are transported every day around the world in goods lifts; without facade elevators and builders' hoists, the construction of multi-storey buildings would be simply unthinkable.
While creaking paternosters were the be-all and end-all of elevator technology a few decades ago, today's lifts are faster, quieter, and can carry more and more.
In the tallest building in the world in Taiwan they zoom through the shafts at over 60 km/h, and the specifications for screws and mounts, rails and controls are becoming even more demanding.
Magnetic lifts are planned, and double-deckers are already in service.
Assessment of injury to persons or property damage and dangerous operating conditions
Assessment of individual components, e.g. remote alarm Systems
Safety Assessment to determine the testing intervals
Summary of the findings in a report or creation of an inspection plan
Conformity assessment
Evaluation of risk Analysis
Type testing of lifts
Certification of quality assurance Systems
Installation testing
Testing under the manufacturer's quality assurance System
Expert opinions on applications for exemptions, changes, and tenders
Preliminary testing of engineering drawings and documents
Pre-commissioning tests
Recurrent tests
Tests after changes/significant modifications
Creation of inspection documents
Establishment of testing interval for recurrent tests
Evaluation of technical specifications (tender documents)
Testing of fire control systems
ASIS II – Innovative technology for recurrent tests
To undertake recurrent elevator inspections quickly and with as little strain on the system as possible, engineers rely on TÜV NORD ASIS II. The innovative electronic testing system is based on our own patents, and calculates the safety data on the condition and the development of the system without loading weights. ASIS II is an upgrade of ASIS, tried-and-tested since 1994 – in the new version, mechanisms such as lifting gear and pressure vessels will be tested using standard test sensors. Weightless testing for new elevator systems is planned.
TÜV NORD as a "Notified Body" and approved monitoring agency (ZÜS)
Our experts certify and examine passenger and goods lifts, circulating passenger elevators (paternosters), facade elevators, builders' hoists, mill elevators, and wheelchair elevator in accordance with the Lift Directive (95/16/EC) and the Operational Safety Ordinance (BetrSichV). We consider this during installation, prior to the initial commissioning, and recurrently after different testing intervals. In the event of accidents or injuries, we carry out the investigation and prepare risk assessments under Section 3 of the Operational Safety Ordinance.
icon_left
icon_right
icon_info