Do you have any questions or comments? Contact us!
We will be very happy to answer your questions.
Special rules for special buildings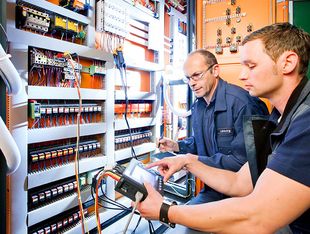 Whether emergency lighting or emergency power supply, ventilation or smoke alarm systems – stadiums, railway stations, and parking garages require particular protection.
We will help you to meet the administrative requirements.
Whether it's the Waldbühne open-air stage in Berlin, a football stadium in Cottbus, or the canteen of a major company in Hamburg, indoors or out - in many large projects and "special buildings", the building regulations are not enough.
Industrial buildings, skyscrapers, shopping malls, stadiums, and hospitals are subject to different rules. This is also true for hotels and parking garages.
We help owners and operators to optimise the effectiveness and safety of technical installations.
TÜV NORD in stadiums: Safety in the spotlight
Our state-certified building law experts inspect the construction and retrofitting of electrical equipment and installations in Germany and abroad. For example, we consider the safety of the power supply and lighting in football stadiums and monitor floodlights and alarm and public address systems. Both according to building law and in accordance with their special building and inspection regulations – and taking into account the requirements of UEFA, European football's governing body. Our other fields of activity:
Review of specifications/tender documents
Review of design and implementation planning
Support during construction with appointments, advice, opinions
Special solutions (e.g. wiring, protective fire separation)
Review of the appropriate implementation of the fire protection concept
Assistance in the development of concepts of selectivity
Safety monitoring of "temporary" technology in the construction period
We create fire and safety concepts for ventilation and electrical installations, and here we specialise in:
Fire alarm systems (e.g. fire control systems for elevators, ventilation shutdown systems)
Smoke and heat extraction systems, fire protection closures
Smoke extraction systems, pressure ventilation Systems
Fixed, automatic fire extinguishing systems and portable fire extinguishers
Automatic sliding doors in escape routes
Doors and gates for automatic closing of smoke and fire protection closures
Power-operated doors and electric door locks along escape routes
Lightning protection systems and surge protection
Other bases of our work include the model inspection regulations, piping systems regulations, and VDE guidelines (Association for Electrical, Electronic & Information Technologies). In particular, the series DIN VDE 0108, DIN VDE 0100 Part 710 (DIN VDE 0107), DIN VDE 0100 Part 551, DIN VDE 0510, taking into account building permits and approval as well as fire safety concept and certification.
icon_left
icon_right
icon_info