Do you have any questions or comments? Contact us!
We will be very happy to answer your questions
Hanover
Buildings for systems with particular risk potential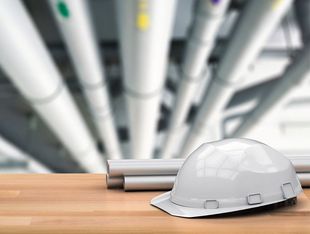 Buildings enclose inter alia the safety systems of a nuclear facility and protect it against natural, external impact such as weather, flooding and earthquakes.
Therefore, the structures of nuclear installations play a crucial role in the plants' safety concepts. Additionally, they protect the safety equipment against the effects of man-made impact like plane crashes and outside attacks. Moreover, the buildings are designed to retain radioactive substances during normal operation, anticipated operational occurrences and accidents in order to protect the environment from radiological hazards. Accordingly, nuclear facilities must meet specific safety requirements as compared to conventional structures.
Structural engineering and steel construction
Safety assessments of nuclear buildings
TÜV NORD Nuclear reviews and assesses the design and construction of nuclear structures against regulatory nuclear safety requirements. In this area, the TÜV NORD Nuclear experts cooperate closely with specialists on statics, subsoil and seismology.
Safety assessment and supervision of decommissioning
TÜV NORD Nuclear assesses and reviews decommissioning concepts for nuclear facilities and supervises the implementation of the decommissioning steps.
Inspections during construction
TÜV NORD Nuclear performs a range of inspections during the construction of nuclear facilities in the structural engineering field, encompassing e.g. external building sealing, coatings, earthing and lightning protection equipment as well as building drainage.
TÜV NORD Nuclear reviews the completeness and consistency of the loads on buildings originating from normal operation, anticipated operational occurrences and accidents (e.g. temperature or pressure loads, jet forces from ruptured piping, internal flooding) as well as loads stemming from external impact (flooding, earthquake, airplane crash and blast wave).
Calculation and testing of steel structures
TÜV NORD Nuclear reviews the capacities of activity retention and support structures of nuclear facilities to accommodate the static and dynamic loads, besides verifying the relevant interfacing structural loads. In the case of crane equipment, TÜV NORD Nuclear experts also perform operational strength tests to prevent material fatigue.
Fire protection for buildings of a special type or for a particular use
For nuclear facilities special care must be taken to mitigate damage arising from incidents, such as internal fires.
Therefore, particularly high safety-related requirements are imposed on the fire protection measures of nuclear facilities in line with the nuclear safety regulations to ensure the Fundamental Safety Functions both under normal and offset conditions.
The required fire protection measures are derived under full consideration of the safety significance of the equipment to be protected. In particular, increased demands are placed on the availability of systems that are key to ensuring nuclear safety and that, in case of redundant systems, must not simultaneously fail due to a fire.
Therefore, when planning a nuclear facility, a complex fire protection concept must be created taking into account both the specific nuclear facility features as well as the general legal requirements. The compliance of the measures specified by the fire protection concept must be verified throughout the entire service life of a nuclear facility.
The fire protection experts of TÜV NORD Nuclear are experienced in all fire protection issues in conventional and nuclear facilities; they are familiar with the safety features of the respective nuclear facility, and they are able to identify possible solutions.
The TÜV NORD Nuclear protection Services include the following topics:
Tests during the planning and implementation phase
TÜV NORD Nuclear reviews the documentation relevant to fire protection during the planning and design stage with the objective to correctly implement the fire protection concept. This would inter alia reduce the necessity and scope of retrofitting measures or modifications, and furthermore reduce the probability of identifying deficiencies during the subsequent acceptance and functional testing.
Fire protection concepts and fire protection assessments
This encompasses the assessment of fire protection concepts as well as the evaluation of fire protection measures and fire protection documents, taking into account the procedural and operational constraints.
Acceptance tests and regular plant walk-down inspections
The rule-compliant implementation and operational reliability of constructional and plant specific fire protection measures are verified by acceptance tests during the construction stage. The operational reliability of the constructional and plant-specific fire protection measures are recurrently checked in in-service inspections during operation. With these regular fire protection inspections the compliance with the rules for organisational fire protection and conduct of operation are verified.