IFS Broker for brokers, traders and importers
How to manage complex global supply chains more safely and efficiently: with certification according to International Featured Standards (IFS) Broker you guarantee your customers gap-free safety of food, bodycare and household products between manufacturers and traders. You optimise your resource management and save costs through more rapid selection of suppliers and more efficient processing of returned goods. With the IFS Broker certificate you demonstrate your commitment and sense of responsibility as a trade intermediary and face the challenge of ever stricter requirements in the food sector.
Certification to IFS Broker grants you access to new markets: as a broker or when importing food, the IFS Standard ensures that the goods you supply comply with current legislation. IFS Broker also serves for the avoidance of food fraud.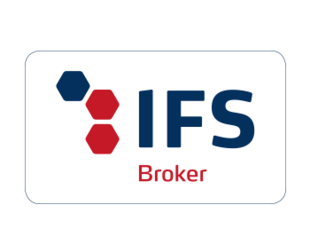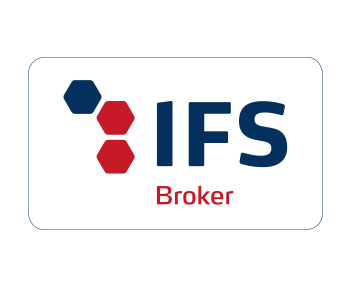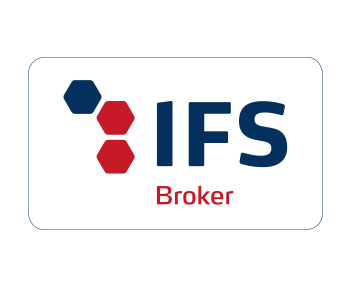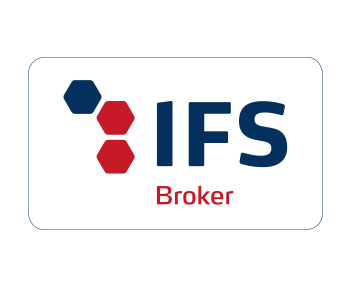 Benefits of IFS Broker certification
Time and cost savings through more effective use of resources

Optimisation of your purchasing processes with faster and better supplier selection

Greater safety in the food manufacturing sector
Secure competitive position
With IFS Broker, you react to the increasing complexity of supply chains

Less need for customer audits
The route to your IFS Broker certificate: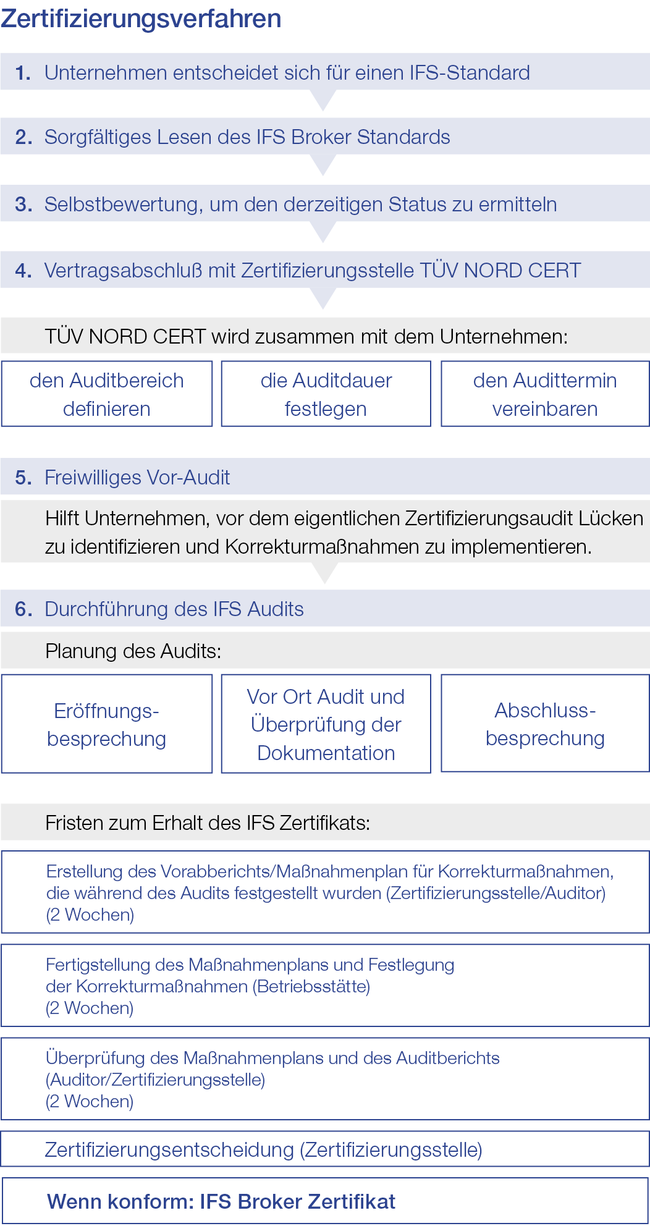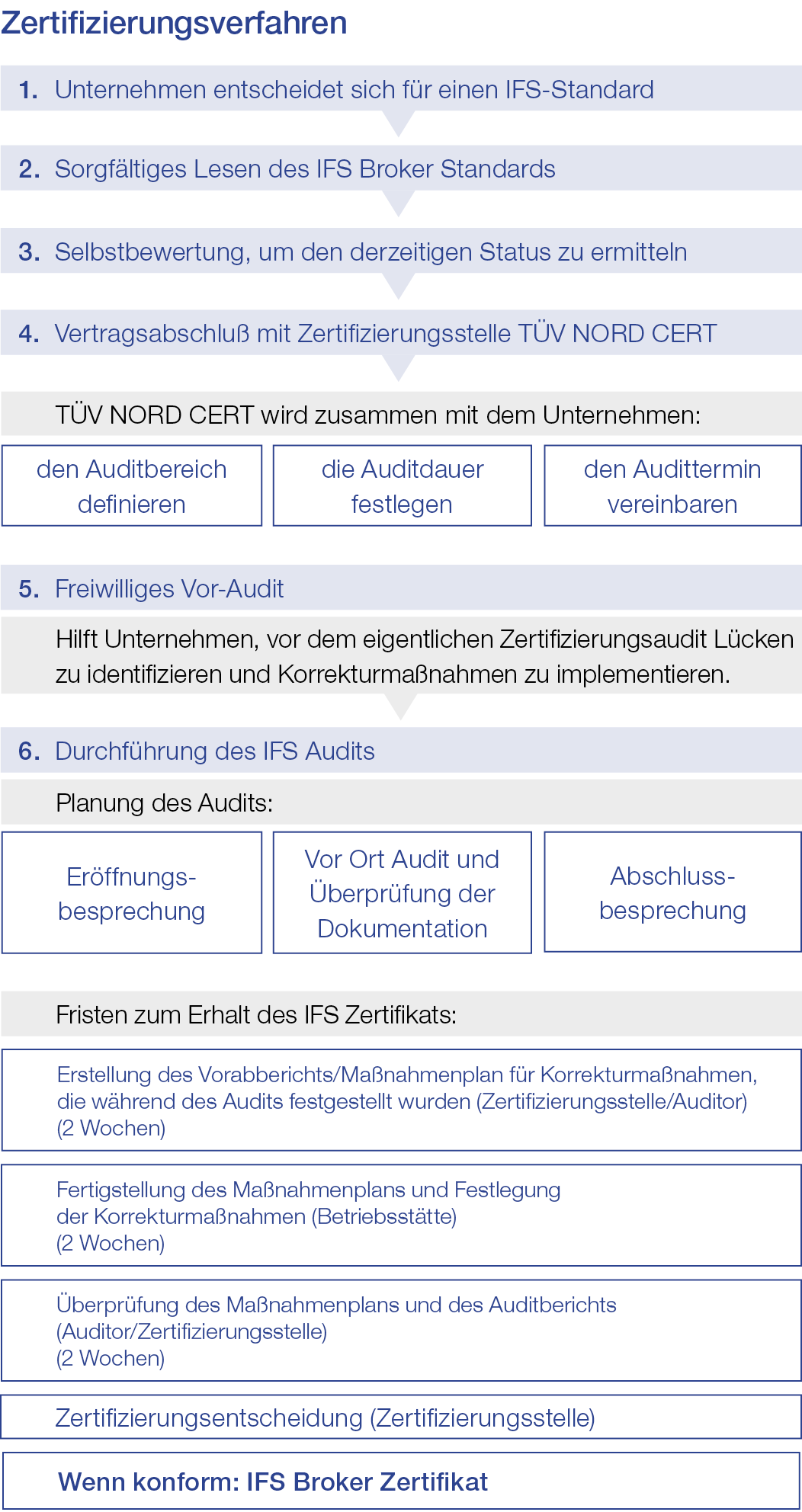 Purpose of IFS Broker certification
Nowadays, raw materials and products are purchased through ever more complex channels and from many very different sources. Trade intermediaries and importers – in other words brokers – are involved in this process: they bring food and products from manufacturers to retailers. They are expected to know, understand and implement the product requirements of the manufacturing companies. The IFS has developed the IFS Broker standard for this target group, in order to include them in the overall food safety concept.
Based on IFS Broker, processes in and with intermediary or importing companies are assessed for their suitability and correct implementation. One important aspect is the way brokers select their suppliers. The objective is to guarantee fulfilment of requirements in the areas of food safety and quality. Therefore legal requirements and contractual specifications have to be adhered to in order to protect consumers.
The three main aspects of the standard:
Introduction of a standardised assessment system for brokers

Comparability and transparency along the entire supply chain

Time and cost savings for suppliers and traders
IFS Broker in its third version: A summary of the changes
The third version of IFS Broker has been available since 2020.
A transition phase up to 30.06.2020 was specified in which organizations could undergo certification according to Version 2 or Version 3. As from 01.07.2020, IFS Broker audits are only performed based on Version 3. This new version of IFS Broker is much more comprehensive than its predecessor. Among other things, an additional, fifth section of the standard describes the possibility of unannounced audits. There are also changes to the second part: almost half of the existing 84 requirements were updated, and 17 new ones were added.
IFS Broker certification from TÜV NORD CERT: the benefit to you
Our experienced and expert team will support you in your certification process from the very beginning. Our long years of activity in the certification sector and the knowledge of many interdisciplinary experts will also be fully at your disposal to guide you through the audit procedure. With TÜV NORD CERT as certification body you will also benefit from worldwide recognition of the TÜV brand. We stand for objectivity, neutrality and competence.
Your international sales contact in Germany
Christian Kienzle
International Sales Manager
International Sales Contact by Country
---
---