Do you have any questions or comments? Contact us!
Zertifizierung
Kostenlose Service-Hotline
ISO 55001: Proactive Asset Management
The introduction of the ISO 5500x suite of standards provided a foundation for management of assets based on harmonised principles. ISO 55001 is particularly aimed at the management of physical assets, but it can also be used for other asset types.
Regardless of which assets are to be managed, the focus is on a proactive asset strategy with corresponding objectives and actions in order to assure efficient and economic asset management over the entire asset life cycle.
Introduction of an asset management system and therefore management of complex processes within the organisation also increases the confidence of stakeholders. Assessment and certification by an independent organisation like TÜV NORD means enhanced security for you and your stakeholders.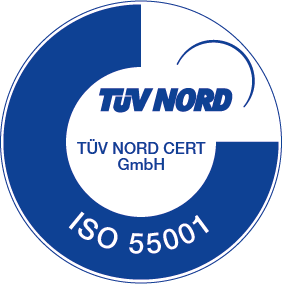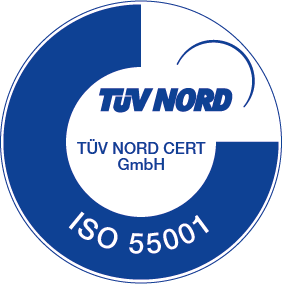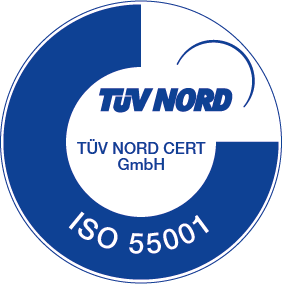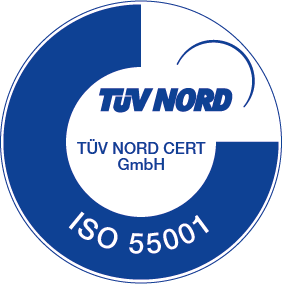 Benefits of certification to ISO 55001
Clearer and more efficient structure of asset management systems based on suitable processes and key performance indicators
Individual assets are more effective and efficient
Optimisation of the planning process on the basis of valid data, which are then useful in particular for digitalisation of assets.
Risks are identified and reduced and opportunities used to the full
Important decisions are made easier for systematic planning and management of plant and equipment
In-house competence is developed further
Operative costs are reduced and cost efficiency increased, along with company value
Assured compliance with official and legal regulations
The different needs of your stakeholders are taken into account, improving your image, with possible advantages when tendering for orders and in the general competitive market
Can a management system according to ISO 55001 also be combined with other systems?
ISO 55001 is based on the High Level Structure. This means that the asset management system can be easily docked on to, or even combined with, existing systems
Who can benefit from ISO 55001?
This standard is above all suitable for organisations that want to install and operate an asset management system and develop it on a continuous basis, and for companies that themselves wish to offer asset management or related services. But the certification is also useful for other stakeholders, as it means they can gain an insight into the legal compliance and contractual reliability of the organisation.
What about the measurability of the asset management?
Analysis and measurability are also part of the certification. During the audit, the organisation has to analyse and report on the performance of the assets and the effectiveness of the asset management system. The company management is also under an obligation to assess the system effectiveness on a regular basis. This means that you have a full overview of asset performance at all times.
How is ISO 55001 connected to ISO 55000 and 55002?
ISO 55000 is a suite of standards for asset management systems. ISO 55000 itself offers basic information alongside an overview of all the standards, and also defines concepts, terms and definitions. 55002 provides further information on practical implementation of the systems in the form of examples of best practice. ISO 55001 describes the exact requirements for an asset management system.
All those employed in the company should take on more responsibility. How can that work?
One of the prerequisites for the certificate is development of the competence of managers and staff, and this can be achieved by means of special training. Understanding the importance and the function of the asset management system ensures increased employee awareness throughout the organisation and greater identification with the subject of asset management – and also with your company as a whole.
How well-recognised is the certificate – and for long is it valid?
ISO 55001 is an international standard and therefore recognised globally. The certificate is issued with a validity of three years – with annual surveillance audits.
Certification with TÜV NORD
TÜV NORD CERT is a well-established and reliable partner for testing, inspection and certification services. Our experts and auditors have extensive knowledge based on experience and support you with expert knowledge and objective feedback. Thanks to our global network, we can offer you our well-recognised and respected inspection and certification services across borders all over the world.
We are looking forward to your inquiry