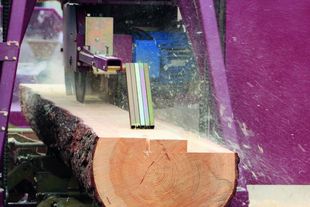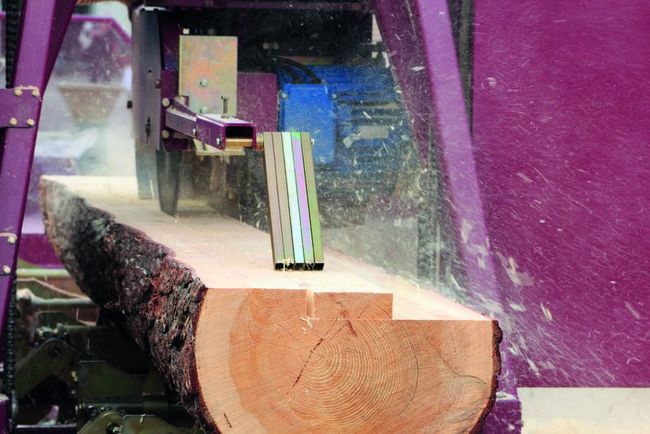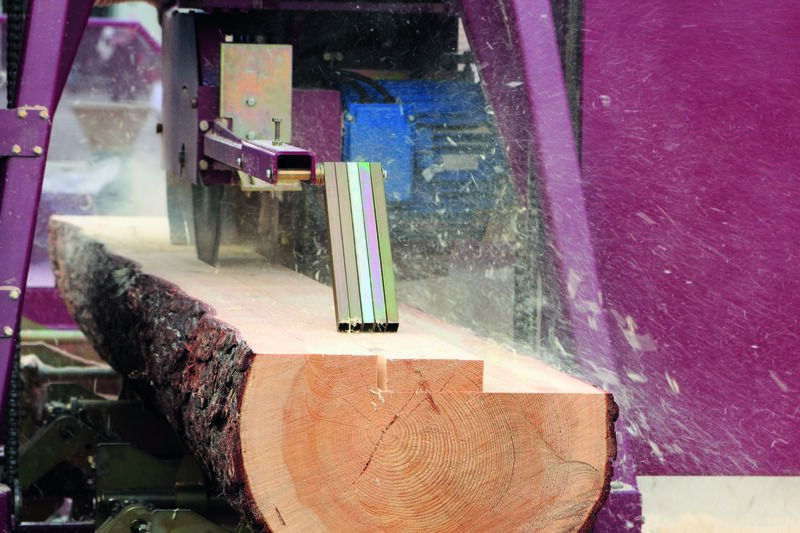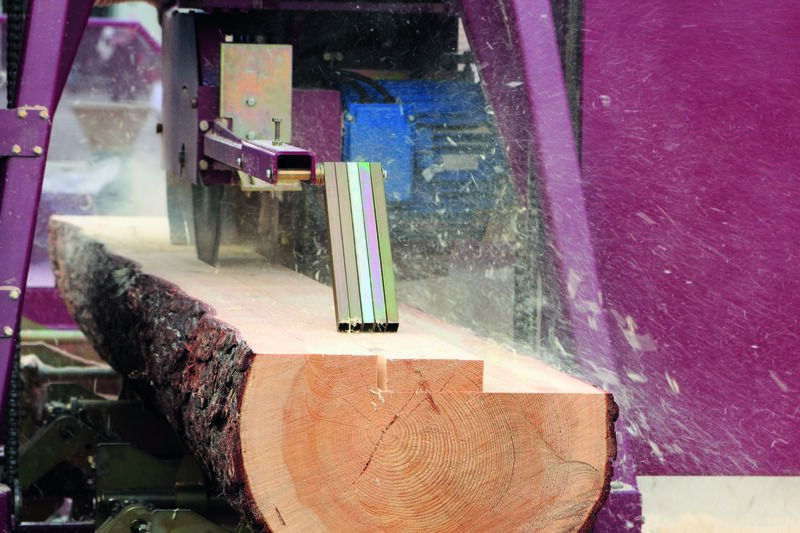 Certification in accordance with PEFC CoC Regulations
Controlled processing chain for timber, printing and paper products
Wood that is produced in PEFC-certified forests should make its way to the customer with the PEFC mark: The consumers include panel plants, pulp plants, paper plants, printers and publishers. Therefore the harvesting, trading and processing chain and retail trade must be certified in order to ensure the raw wood materials are PEFC in origin: PEFC Chain-of-Custody (CoC) or a product chain certification.
High standards are now placed on the players in the forestry sector. Forestry service companies that are engaged in the harvesting of wood, the delivery of this valuable raw material, forest restoration services and forest management can be certified as per an RAL standard of the "Quality control association of forestry and land conservation e.V.". The legal requirements of the business, technical standards, accident prevention regulations and the quality of work are currently evaluated in 3 test areas. The RAL certificate is a prerequisite in some Federal states for participating in calls for tenders in the state forest and serves as credible proof of the quality of work.
Which services do we offer?
Certification of regions for sustainable forest management as per the PEFC standard
Certification of wood processing and wood-working plants as per the PEFC Chain of Custody (product chain)
Certification as per the criteria of the RAL quality control association for forestry and land conservation e.V.
The certification is interesting for
Companies working in the timber- or wood fibre-processing industries such as sawmills, the timber trade, furniture producers, paper manufacturers, publishers or printers. Small companies can take advantage of favourable group certification. Combined certification is possible for firms with more than one site, branch or subsidiary. TÜV NORD CERT offers the auditing of joint certificates of all sizes – from regional to global – as well as economic combinations with other certification systems.
Advantages of certification
PEFC-certified businesses display a commitment to the environment and ethical conduct. The timber can be clearly identified at all times during all stages of processing and marketing. An examination and/or certification by TÜV NORD CERT provides customers and their market partners with clear advantages, such as:
greater trust due to verification of fulfilment of the provisions of a globally recognised standard
a higher level of acceptance of the timber or timber product among customers and consumers who value a reliable proof of origin
acquisition of new customer groups with a green purchasing policy
use of the PEFC symbol as a strong marketing tool compared to competitors without this certification
proof of origin confirming that the timber does not come from controversial sources
sustainability thanks to short transport routes – documented by specification of a particular region of origin (e.g. timber from Bavaria)
Prerequisites for certification
Selection of the appropriate system in each case
A. System of physical separation: PEFC timber or paper strictly separated from uncertified material
B. Percentage system: carefully monitored mixing with timber or wood fibre products from controlled Sources
Certificates for purchased PEFC timber and paper products, stocks, any applicable production losses and sold PEFC products
Verification of a management system with which supplier monitoring, internal examinations and records are guaranteed
The path to the certificate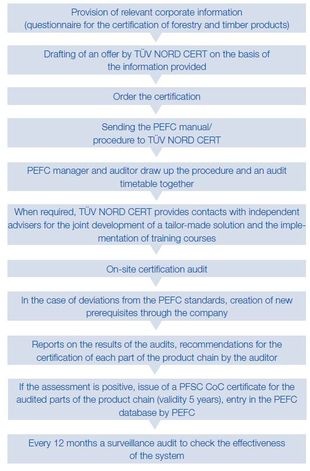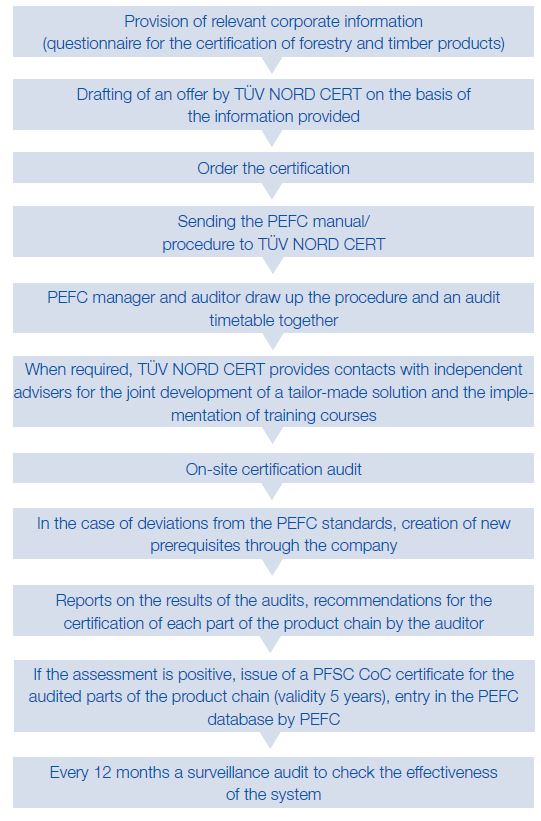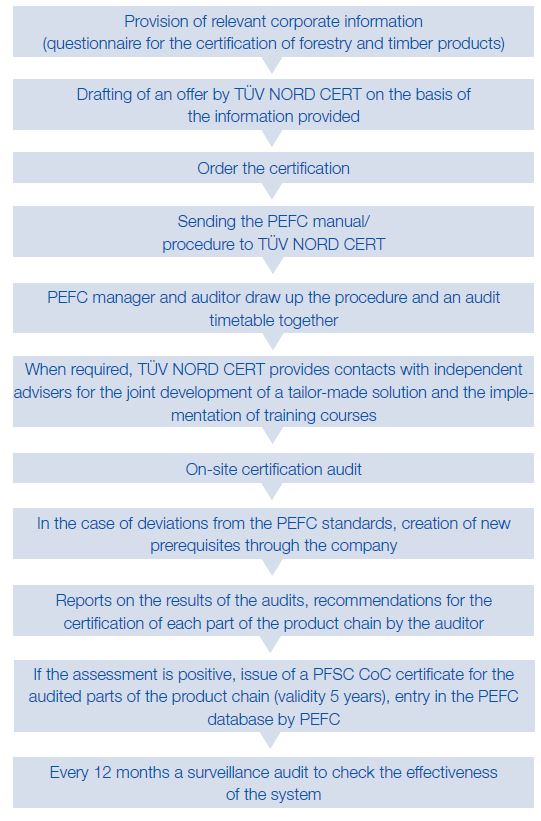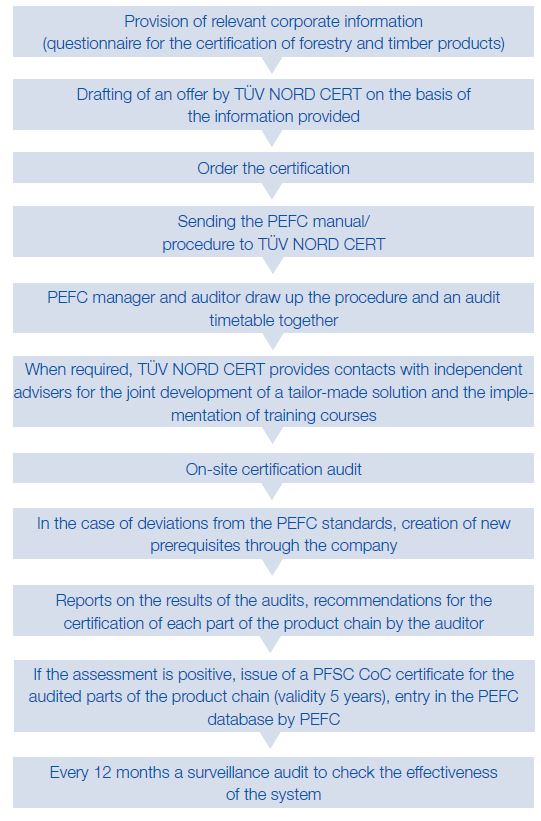 Group certifications are also possible, as is a combination with a management system certification according to ISO 9001 or ISO 14001.
Our know-how for your success
TÜV NORD CERT is an internationally recognised and reliable partner for inspection and certification services. Our experts and auditors possess in-depth knowledge and are all employed full-time at TÜV NORD. This guarantees independence, neutrality and continuity when providing support to our customers. The advantage to you is self-evident: Our auditors accompany and support the development of your company and provide you with objective feedback.

TÜV NORD CERT uses highly skilled professional auditors with experience acquired from currently more than 600 issued certificates in the field of product chain certification for timber. We are not only an expert partner in Germany, but offer our services worldwide.

Timber-processing companies are faced with a number of certification systems. These include, for example, management system certifications according to ISO 9001, ISO 14001 or ISO 50001. With its extensive expertise, TÜV NORD CERT covers a wide range of certification areas from a single source. Where certification is performed according to more than one system it is possible to take advantage of synergy effects in this manner which result in major cost savings.
At the European conference of ministers in Helsinki and subsequent conferences for protecting Europe's forests, the following criteria were decided upon for use on the national level.
Preservation and adequate improvement of the forest's resources and their contribution to global carbon cycles
Preservation of the health and vitality of forest eco-systems
Preservation and promotion of the producing function of the forests (wood and non-wood products)
Preservation, protection and adequate improvement of the bio-diversity in forest eco-systems
Preservation and adequate improvement of the protective function of forest management (primarily soil and water)
Preservation of other socio-economic functions and conditions
http://www.wald-und-landschaftspflege.de/
Quality control association of forestry and land conservation e.V.
RAL
The PEFC Regional Label
With the PEFC regional label, wood-processing companies have great opportunities in the marketing of wood products that come from a geographically delimited region (for example "Domestic wood from Bavaria"). Consumers can in turn ask specifically for regional products from sustainable forest management. To obtain a PEFC regional label, the wood must be harvested in a clearly definable region in Germany. In addition, it must remain clearly identifiable at all times throughout the production process.
Special PEFC certifications for forest owners
Forest owners now also have the possibility of having Christmas tree cultures certified according to PEFC. With the "PEFC standard for Christmas tree cultures on forest areas", forest owners can prove that their Christmas trees have been produced under consideration of ecological, economic and social aspects. Forest owners can also use the PEFC recreational forest certificate to demonstrate their special commitment to those seeking recreation.
Further information on forest certification
Credible proof of work quality: the RAL standard
Today, high demands are made not only on the timber trade and processing, but also on the practical forestry sector. Forestry service companies that are responsible for the harvesting of wood, the delivery of this valuable raw material as well as services in forest renewal and forest maintenance, can be certified according to an RAL standard of the Quality control association of forestry and land consercation e.V. certified. This involves assessing legal requirements for operation, technical standards and accident prevention regulations as well as the quality of work in currently three test areas. In some federal states, the RAL certificate is a prerequisite for participation in tenders in the state forest and serves as credible proof of work quality. In addition, all PEFC-certified forestry operations may only use forestry companies that are certified according to RAL or another standard recognized by PEFC.
Our experts are glad to answer your individual questions at any time