EMC LED: bringing safety and quality to light
A ray of hope for more energy efficiency and longevity: the future belongs to economical, robust LED luminaires. Especially in the case of basic product innovations, a high degree of transparency and safety is necessary. To ensure that they are widely accepted by consumers and meet all legal and customer-specific requirements, TÜV NORD offers manufacturers, importers and dealers of LED luminaires, luminaire components, LED lamps and lighting systems comprehensive testing of electromagnetic compatibility (EMC) and electrical safety.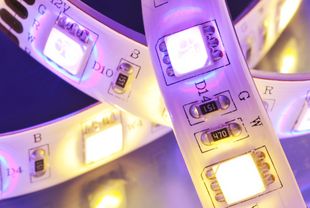 Building trust and securing market access
The more LEDs replace conventional light bulbs in private, commercial and public areas, the greater the competition in this growing market. High energy efficiency, low heat generation, robustness, freedom from maintenance and long service life are the winning arguments in favour of modern LEDs. Suppliers who can prove the perfect quality of their products with independent testing by TÜV NORD have an advantage here. Compliance with the legal requirements is the indispensable ticket to the market.
LED certification: various regulations are relevant
Like all other electrical equipment, any LED lighting must meet the requirements of the EMC Directive 2004/108/EC. With regard to electrical safety, safety tests according to different IEC standards are required depending on the type of lighting device. TÜV NORD offers product testing for luminaires, luminaire components and lamps as proof of conformity for CE marking of electrical and electronic components up to the complete lighting installation. Testing of energy-saving lamps, LED modules and LED control gear, emergency luminaires and other lamps and luminaires is also possible. The standards used as a basis include EN 55015 and EN 61547 (EMC) as well as IEC 62560, IEC 62031, IEC 60598, IEC 61347 and IEC 62471 (electrical safety).
Advantages of EMC testing of LEDs
The importance of LED lighting will continue to grow - in the private sector as well as in industry and public spaces. In this growing market, those suppliers who prove the high quality of their products by fulfilling all requirements for safety, electromagnetic compatibility and performance will be successful. In addition, the conformity of the products with national and international standards, which TÜV NORD confirms after successful testing, is the prerequisite for unimpeded market access.
Requirements for EMC testing of LEDs
For tests according to the requirements of the EMC Directive 2004/108/EC, a test copy of the product to be tested is required. In addition, the complete circuit documentation and data sheets of the components and materials used must be available for the electrical safety tests. Independent of a complete type or GS test, it is of course also possible for manufacturers to carry out only individual partial tests as part of the product qualification for CE marking.n.
You may also be interested in