Support for all aspects of EMC tests and measurements
Do you need an EMC test or a special EMC test? TÜV NORD is the ideal partner for you. Our EMC Services department offers you a comprehensive range of measurement and testing services. We are accredited by the German Accreditation Body (DAkkS) and recognized as a technical service by the Federal Motor Transport Authority (KBA). We carry out EMC tests on the basis of various internationally harmonized EMC standards.
All test equipment is constantly adapted to the latest technical requirements. Our goal is the precise result - this is the basis of the safety of your products and thus the basis of your customers' satisfaction.
Our test reports are recognized by official bodies and regulatory authorities worldwide. This applies - but is not limited - to Europe, USA (FCC B), Canada (ISED).
Testing services according to important EMC requirements
We test your electrical equipment and systems according to various directives, including in particular:
Radio Equipment Directive (2014/53/EU)
EMC Directive (2014/30/EU)
Machinery Directive (2006/42/EC)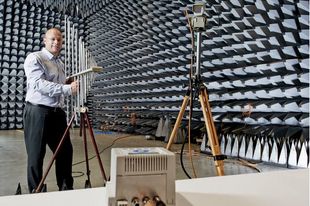 EMC measurement on site
TÜV NORD has a well-equipped EMC measuring vehicle so that various tests accompanying development and conformity tests can take place on site at the system or equipment to be tested.
The service package includes all necessary preliminary tests for immunity and emission of the electrical systems or installations to be tested in accordance with the prescribed standards, the test reports then serve as the basis for the CE declaration of conformity.
Electromagnetic interference - on-site analysis of equipment and systems
Installers and operators of equipment, installations and systems often have EMC problems when highly sensitive electronics and powerful assemblies with high interference emissions run in close proximity to each other. Here we investigate the existing interference potential (interference voltages, interference currents, interference field strengths) and make statements about a possible influence on sensitive systems in the environment. The result is usually provided in the form of a test report or expert opinion with advice on how to solve the problem.
EMC Tests and Measurements
Radiated emissions
Field strength measurements DC up to 18 GHz
Emissions on lines
Interference voltage measurements up to 500 MHz
Interference current measurements up to 500 MHz
Harmonics and flicker (three-phase up to 32 A)
Interference immunity against radiated fields
HF irradiation up to 100 V/m m (10 KHz - 6 GHz)
Interference immunity against conducted disturbances
Burst pulses up to 4.5 kV and surge pulses up to 10 kV
HF currents up to 1 GHz
Test pulses for automotive electronics
Simulation of voltage fluctuations and short-term grid interruptions (three-phase up to 32 A)
Electrostatic discharge (ESD)
Air discharge up to 30kV
Contact discharge up to 25kV
Additional EMC tests and investigations
Grid quality / grid disturbance analysis / harmonics analysis / long-term measurements
Shielding effectiveness measurements
Complete testing service together with TÜV NORD experts
Support during development
Tests and measurements during development in the laboratory or on site at the demonstrator or prototype
Fault analyses
Fault analysis of equipment, systems and plants
Grid disturbance analysis and long-term measurements
EMC conception and consulting
Environmental and risk analysis for new buildings and buildings already in operation
You may also be interested in