Radio tests according to RED Directive 2014 53 EU
For devices covered by the Radio Equipment Directive 2014/53/EU (RED), the safety objectives and requirements of the Low Voltage Directive must be complied with even without applying the voltage limits. A safety assessment must therefore be carried out for radio equipment in all cases, regardless of the supply voltage and type. This includes, for example, radio modules, WLAN routers and battery-operated radio equipment.
We would be pleased to support you in complying with the requirements resulting from the Radio Directive. We not only assist you with safety issues, but also check the radio parameters of your device.
Our services for testing according to the RED Directive at a glance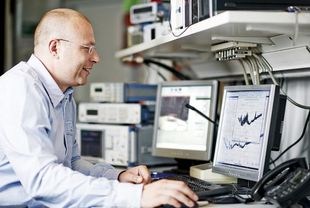 Radar systems (e.g. road traffic and traffic telematics 24 GHz and 76/77 GHz)
Wireless communication
Short-range devices
Radio modules for data transmission
Wireless microphones
Loudspeakers and other wideband audio and video applications
Transponder systems and RFIDs
Broadband transmission systems
Surveillance systems, alarm and emergency systems
Alarms, identification systems, radio determination, telecommunications, telemetry, etc.
Inductive applications
Detection, motion and alarm applications, etc.
Smart metering Wireless access
Wireless charging
PMR, PAMR & trunked Radio
CB and amateur radios
Radio tests and radio approvals
Radio testing by TÜV NORD gives users of wireless products and devices with radio links more safety. Wireless products use electromagnetic radio waves, for which strict regulations apply in terms of health and equipment protection, for example through the Radio Directive of the European Union. As an expert in the field, TÜV NORD can be your partner in the area of radio testing thanks to its extensive testing technology.