Our EMC test laboratory in Hamburg
In our well-equipped laboratory in Hamburg, we offer you all relevant EMC measurements. The laboratory constantly adapts its services to technical progress and all innovations in EMC standardization. We measure in shielded measuring cabins as well as in various absorber halls and in an unshielded laboratory area. In addition to the measurements in our EMC laboratory, we also carry out on-site tests. We have a well-equipped EMC measuring vehicle, so that various tests accompanying development and conformity tests on site are no problem.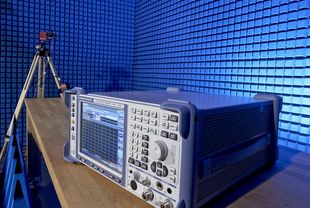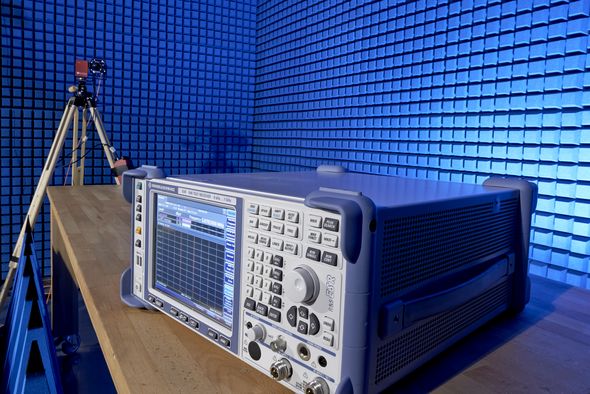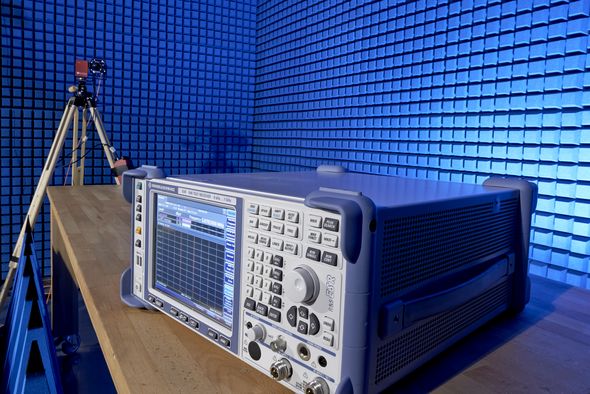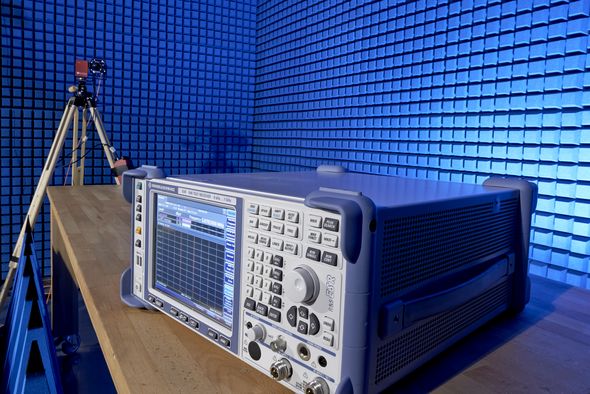 Equipment of our EMC laboratory in Hamburg
Shielded measuring cabins
Large cabin: Available space: 4 m x 5 m x 2.50 m
Small cabin: Available space: 3 m x 4 m x 2.50 m
Large absorber hall
Interference emission measurements up to 10 m measuring distance in the frequency range up to 18 GHz
Available space: length: 15 m, width: 8 m, height: 6.5 m
Hall door: 3 m x 3 m
Floor load capacity (incl. turntable): 3 t to 10 t
Unshielded laboratory area
approx. 100 m2 area with measuring equipment for
Grid simulations
Preliminary tests and
Comparative tests etc.
Small absorber hall
Interference emission measurements at 1 m measuring distance
Immunity tests up to 6 GHz
Questionnaire EMC Test Laboratory Hamburg
Selection of accreditation areas
All subject-specific basic standards (Generic Standards)
All essential basic standards (Basic Standards)
Devices for domestic use and similar purposes
Electrical system technology for home and buildings
Audio, video and audiovisual equipment
Variable speed electrical drives
Programmable logic controllers
Industrial, scientific, medical high-frequency equipment (ISM equipment)
Electrical equipment for control technology and laboratory use
Electrical lighting equipment
Information technology equipment
Medical electrical equipment
Metrological aspects of non-automatic weighing instruments
Navigational and radio communication equipment for maritime navigation
Code of Federal Regulations, Telecommunication (FCC Requirements)
TÜV NORD CERT GmbH
Abteilung EMV Services
Harburger Schloss-Straße 6-12
21079 Hamburg
Visitor parking and delivery:
Karnapp 11, 21079 Hamburg
The EMC laboratory is located in the Hamburg-Harburg district south of the Elbe River at the channel hamburg technology site in the TUTECH building.
Our service hours:
| | |
| --- | --- |
| Monday | 8am to 6pm |
| Tuesday | 8am to 6pm |
| Wednesday | 8am to 6pm |
| Thursday | 8am to 6pm |
| Friday | 8am to 6pm |
TÜV NORD EMC Laboratory Hamburg