EMC test laboratories by TÜV NORD
The electromagnetic compatibility of electrotechnical or electronic products and devices can be measured in a real operating environment or in an EMC laboratory. In order to provide reliable EMC test results, high-quality, modern and strictly monitored EMC laboratory equipment is essential. We work under accreditations of the German Accreditation Council and designation by the Federal Motor Transport Authority and always keep our measuring instruments and laboratory equipment up to date.
We also carry out EMC tests based on various international, harmonized EMC standards. Our test reports are recognized by official bodies and regulatory authorities worldwide.
Services of our EMC laboratories
TÜV NORD is your partner in the product development process; thanks to short registration deadlines and maximum flexibility in planning and execution, the tests can be smoothly integrated into your organizational and work processes. We not only carry out conformity tests, but can also support you during the development phase. Furthermore, together with our partners, we also offer you complete environmental qualifications in addition to EMC tests.
Larger systems cannot be tested in the laboratory, so we test the systems on site. These are usually manufacturing plants, energy systems (wind turbines, energy storage systems) or railways and their infrastructure. It is not uncommon for EMC problems to occur during the commissioning of large systems, when highly sensitive electronics and powerful assemblies with high interference emissions are operated in close proximity to each other. In these cases, we investigate the existing interference potential and provide support in solving the problem.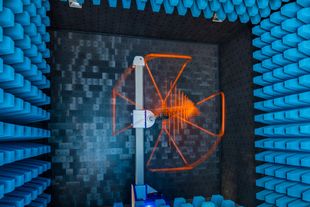 Would you like to learn more about our EMC laboratories?