Our EMC test laboratory in Cologne
We specialize in testing electrical and electronic equipment in the areas of radio, EMC and electrical safety. We advise you on which regulations and standards apply to your device and take over the complete processing of the services you require. This way, you ensure legally compliant market access. Worldwide, we support you in the testing and international certification of devices that use radio modules or radio services. This includes, for example, applications with RFID, Bluetooth and Wireless LAN or radar applications of the frequencies 24 GHz and 77 GHz. In terms of measurement technology, we cover the range up to 300 GHz. But of course we also test electronic devices without radio modules in the areas of EMC and electrical safety. Our test laboratory is accredited by the German Accreditation Body (DAkkS) according to DIN EN ISO/IEC 17025.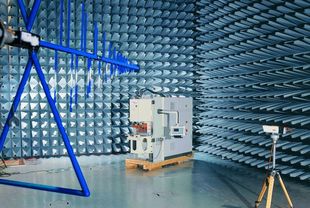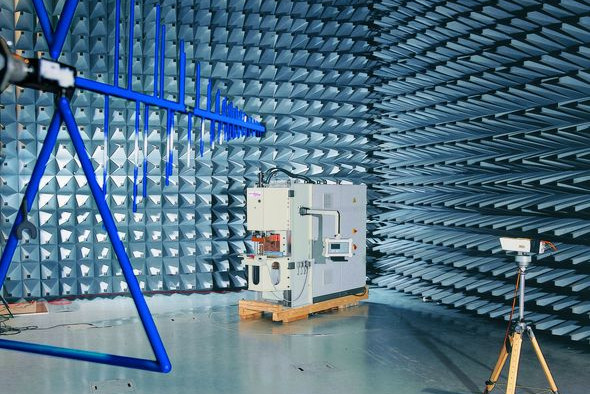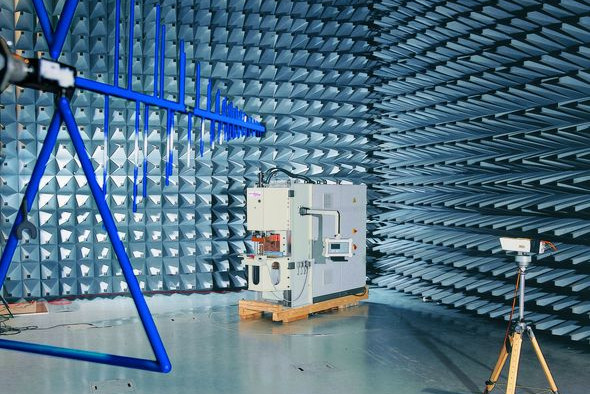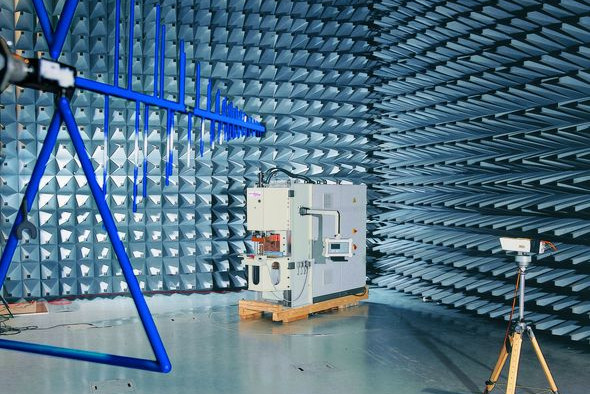 Equipment of our EMC laboratory in Cologne
Unshielded laboratory area
approx. 23 m² area for device safety tests
approx. 30 m² area for radio tests (measurements under extreme conditions)
approx. 20 m² area for EMC tests
Approx. 400 m² area for preliminary tests, comparative tests, etc.
Absorber hall
Interference emission measurement up to 3 m measuring distance in the frequency range up to 325 GHz
EMC immunity test (radiated) in the frequency range 80 MHz - 6 GHz up to 10 V/m
Available space : Length: 8,550 m; Width: 5,550 m; Height: 5,325 m
Maximum test volume: Φ 2.00 m * 2.00m
Hall door: 1.20 m * 2.30 m
Floor load capacity (incl. turntable): 1,000 kg
Our testing services at a glance
Tests under the RED
Radar systems (e.g. road traffic and traffic telematics 24 GHz and 76/77 GHz)
Wireless telecommunications
Short Range Devices:
Radio modules for data transmission
Wireless microphones
Loudspeakers and other wideband audio and video applications
Transponder systems and RFIDs
Surveillance systems, alarm and emergency systems
Alarms, identification systems, radio determination, telecommunications, telemetry, etc.
Inductive applications
Detection, motion and alarm applications, etc.
Smart Metering Wireless Access
Wireless charging
Broadband transmission system
PMR, PAMR and trunked radio
CB and amateur radios
EMC test
Radiated emissions
Emissions on cables
Immunity to radiated fields
HF irradiation
Immunity to conducted disturbances
Burst pulses and surge pulses
HF currents
Test pulses for automotive electronics
Simulation of voltage fluctuations and short-term grid interruptions
Electrostatic discharge (ESD)
Air discharge up to 30kV
Contact discharge up to 25kV
Power quality
Harmonic analysis, flicker, grid failure simulation
Electrical safety tests
EN 62368-1, for example, is the risk-based safety standard applicable to radio modules, telecommunications and IT electronics. This standard defines, i. a., the following tests:
Measurement of the protective conductor resistance
Measurement of leakage current and touch current
High voltage tests
Temperature tests
Performance measurements for mechanical strength
Checking the operating instructions
Verification of label data
Questionnaire EMC Test Laboratory Cologne
TÜV NORD Hochfrequenztechnik GmbH & Co. KG
LESKANPARK, Gebäude 10
Waltherstr. 49-51
51069 Köln
You will find TÜV NORD Hochfrequenztechnik in LESKANPARK, an industrial park in the Dellbrück district with a total of 43 buildings. You will find us in Hall 10.
Our service times:
| | |
| --- | --- |
| Monday | 8am to 6pm |
| Tuesday | 8am to 6pm |
| Wednesday | 8am to 6pm |
| Thursday | 8am to 6pm |
| Friday | 8am to 6pm |
TÜV NORD EMC Laboratory Cologne