Security regarding Industry 4.0 according to the latest certification standards
The danger of cyberattacks is constantly increasing for companies. This makes responsible handling of information more important than ever. After all, information is a precious asset, and its loss or manipulation can cause considerable damage. Networked components or systems are used in many areas today: In medical technology, the automotive industry, railroad technology or the process and automation industry, just as in power plants or wind turbines. Operators, integrators and manufacturers in these and many other industries must therefore today not only consider whether their systems are running securely, but also how they protect their networked systems against hacker attacks.
IEC 62443 is the most important standard for IT security in the industrial sector. It has established itself as an internationally recognized standard for proving compliance in the process and automation industry environment. Due to the lack of standardization specifications, many other industrial sectors are now relying on this standard. This makes IEC 62443 the central certification standard for Industry 4.0.
IEC 62443 also serves as possible proof of compliance with the duty of care in accordance with the German Ordinance on Industrial Safety and Health and the German Product Safety Act.
Scope of application of IEC 62443
IEC 62443 is divided into different sub-standards and addresses the logical levels of organization/processes, system and components as well as process-related and functional requirements. IEC 62443 thus normatively maps the entire industrial spectrum in accordance with the requirements of operators, integrators and manufacturers. The classic business structures (TIC testing, inspection, certification) are taken into account in the context of audits of processes and systems, as are measures for product testing or certification of components. IEC 62443 is thus a central tool geared to IT security for industrial communication networks. With its clearly defined process models and best-practice recommendations, the standard helps to approach this complex topic in a manageable way.
IEC 62443 Security Level: Structure of the standard
IEC 62443 Security Level: Structure of the standard
The series of standards currently comprises eleven sub-standards. The standard is divided into four coherent sections, the so-called Security Levels (SL). These in turn contain documents on individual key topics. The various levels indicate the resistance to different classes of attackers. The standard emphasizes that the levels are to be evaluated per technical requirement and are not suitable for the general classification of products.
Further information on certification of security requirements according to IEC 62443-2-1 and -2-4
Advantages of certification according to IEC 62443
Identification and elimination of digital weak points in the development, manufacturing and service process
Assurance of product quality and safety
Reduce the risk of product recalls and image damage as well as resulting claims for damages
Reduce liability risks, protect consumers and employees
Minimizing the risk of defects and damage to reputation (risk management)
Reduce costs and risks by identifying and eliminating digital security gaps in advance
Your customer focus, performance, quality and security become visible to outsiders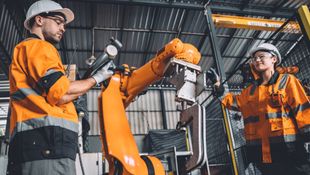 IEC 62443 Certification: TÜV NORD is accredited
TÜV NORD has accreditations from both the German Accreditation Body (DAkkS) and the internationally recognized standardization organization IECEE to perform all relevant testing and certification according to IEC 62443. The DAkkS accreditation was carried out according to the latest scheme 71 SD 019 (Accreditation requirements for conformity assessment bodies in the field of information security/cyber security for industrial automation systems according to IEC 62443).
This certification standard allows the fulfillment of due diligence to be demonstrated as well as laying the foundation for proof of conformity at an early stage.
FAQ - We have the answers
Why certification according to IEC 62443?
Certification according to IEC 62443 analyzes and evaluates safety concepts and measures. It proves that the certified company works according to the 'state of the art' and fulfills its legal duties of care - important prerequisites for minimizing liability risks. In addition, components can be placed on the market safely in accordance with the Product Safety Act (ProdSichG). And last but not least, companies can protect their employees in this way in accordance with the Industrial Safety Ordinance.
Hackers and cybercriminals do not stop at industrial plants. If they discover a weak point, they can sometimes put entire industrial plants out of operation. Particularly in the area of critical infrastructures, this can have dramatic consequences, such as lasting supply bottlenecks.
IEC 62443 provides you with the best possible protection against cyber attacks and improves the overall security of your production. The international standard provides you with a guideline of criteria and security requirements with which you can increase the integrity, availability and confidentiality of your components and systems.
What is the goal of the IEC 62443 series of standards?
The objective is to provide standards, procedures, technical reports and additional information that define processes for the safe implementation of IACS. This is intended to provide guidance to all those responsible for the design, implementation, management, manufacture and operation of IACS. It is also intended to address users, integrators, manufacturers and vendors.
Certification with TÜV NORD
TÜV NORD is your reliable internationally recognized partner for testing and certification services. Our experts and auditors have in-depth knowledge and support you with both technical expertise and objective feedback. Thanks to our global network, we can offer you our recognized testing and certification services across countries.
This might also interest you