Mask testing (FFP2 or FFP3 masks) and certification by TÜV NORD
TÜV NORD tests so-called occupational safety masks or dust protection masks, also known as FFP2 or FFP3 masks, in its laboratories in cooperation with the testing laboratory for air hygiene (DMT GmbH & Co. KG). These particle-filtering half masks are part of the personal protective equipment (PPE) and are intended to protect the wearer from aerosols, particles and droplets, for instance, as part of occupational safety.
For more information on the different types of masks, see the expert interview with Dr Dirk Renschen (Head of Product Testing Refrigeration & Air Quality at DMT) at #explore: which mask protects best against corona?
The focus of the tests here is on filtering protection, breathing resistance, wearing comfort and fit. The parameters are determined using, for example, a standardized test specimen in the shape of a face on which the respiratory mask is mounted and tested. Special regulations apply to manufacturers here, as these types of masks fall into the highest risk category for personal protective equipment.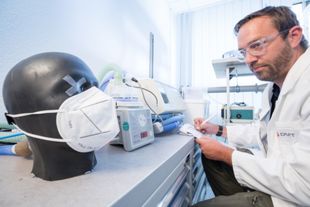 Personal protective equipment (PPE) - risk categories annual main inspection
Category I
includes only minor risks
Category II
includes risks that are not listed under category I or category III. Any PPE that is not subject to Category I and III is automatically Category II
Category III
includes only those risks that can lead to very serious consequences such as death or irreversible damage to health, e.g. use of respiratory protective devices.
All PPE must be classified according to the risk categories of the PPE Regulation in order to provide the best possible protection for users. Respirators fall under category III, which means that they must undergo the most stringent, multi-stage conformity assessment procedure.
PPE may only be placed on the European market if it complies with the provisions of the European PPE Regulation ("Regulation (EU) 2016/425 on personal protective equipment"). To this end, the PPE Regulation provides for a CE marking as a sign of completed conformity assessment.
With the CE marking, the manufacturer, distributor or EU authorized representative declares that the product complies with the applicable requirements.
Requirements in the conformity assessment for CE marking
The conformity assessment for CE marking of category III PPE requires:
an EU type examination by a notified body (Module B, Annex V).
In addition, one of the following procedures is also required by a Notified Body:
supervised product testing at irregular intervals in conjunction with an internal production control (Module C2, Annex VII) or
surveillance of the manufacturer's quality system (Module D, Annex VIII)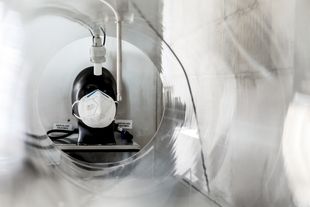 The CE marking with the four-digit identification number of the Notified Body performing the manufacturing surveillance must be visibly affixed to the respirator. TÜV NORD-certified respirators can be identified by the CE 0044 marking and can be retrieved from the NANDO database.
Extensive mask certification in the TÜV NORD laboratories
As a Notified Body in accordance with Article 24 of the PPE Regulation, TÜV NORD can test and certify the particle-filtering half masks and monitor the ongoing production quality. As a member of the TÜV NORD GROUP, DMT GmbH & Co. KG meets all the required criteria with its air quality and filter testing laboratory.
The modern, well-equipped TÜV NORD laboratories at the Essen (filter-related respirators) and Dortmund (fire tests) locations meet the requirements of international standards. Our own highly professional test stands have been designed and put into operation.
Our company clearly positions itself as a certified and officially supervised testing body vis-à-vis non-accredited market players and provides an urgently needed service in the pandemic situation, as there are only a few Notified Bodies in Germany and Europe that are allowed to approve certain respiratory protection products.
Use of tested and approved filtering half masks according to the EN 149 standard.
The EN 149 standard ("Respiratory protective devices - Filtering half masks to protect against particles - Requirements, testing, marking", German version EN 149:2001+A1:2009) specifies minimum requirements for respirators which, depending on the classification and class (FFP1 to FFP3), must demonstrate a certain usage function and sometimes reusability. A respirator of type class FFP 1 must achieve a filtering performance of at least 80%, followed by FFP 2 (> 94%) and FFP 3 (> 99%). Particle-filtering face pieces (FFP) must meet the requirements of Annex II of the Personal Protective Equipment Regulation (Regulation (EU) 2016/425 of 9 March 2016).
We are looking forward to your inquiry