Do you have any questions or comments? Contact us!
Full audit competence for your supplier audits
Because work is increasingly divided into separate stages and the number of actors within supply chains, it is extremely complicated to assess supplier quality and process capability and also possible risks and opportunities. A conscientious audit programme for all suppliers binds many organisational resources, and it is often not possible or too costly for in-house staff to perform the necessary work. Sometimes audits of international suppliers also have to be carried out all over the world. This is where we come in.
Our audits can be a valuable instrument in order to create transparency through the entire supply chain and help you to make a considered selection of suppliers on a sustainable, reliable basis. From the nonconformities and also good practices that are identified, it is possible to find potentials for improvement and clarify and eliminate problems within supplier relationships.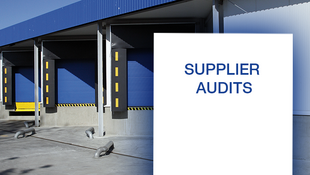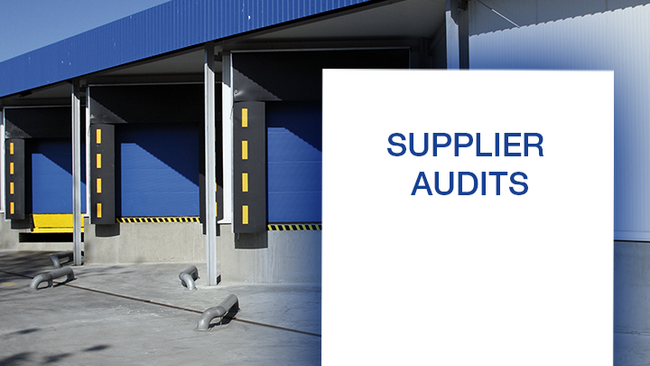 Benefits of outsourcing your supplier audits to TÜV NORD CERT
Ideal instrument for supplier assessment and supply chain management
Protects against reputational damage by third parties
Lower costs through reduction in number of recalls
Outsourcing of supplier audits saves resources
High level of transparency over the entire supply chain
Continual improvement of supplier quality
Adherence to specifications for own brand products
Worldwide network of auditors with local auditors in the local language
Supplier audit procedure for customers

What are supplier audits?
In a supplier audit – also called a Second Party Audit – suppliers of a particular company are inspected. There is an on-site tour of the production facilities and processing and handling of the product are assessed over all the processes of the company. This means that suppliers can be evaluated more effectively with regard to quality, product conformity, hygiene and reliability. Nonconformities and risks are subjected to evaluation and must be eliminated by the supplier. The handling of nonconformities following the supplier audit has to be monitored and supported on an ongoing basis in order to guide the supplier towards greater product conformity.
How does TÜV NORD CERT work with you?
In a detailed preliminary meeting and kick-off at your premises, we explain the prerequisites and requirements for the supplier audits on your side, and we will be happy to develop a suitable audit programme with you. Following conclusion of the supplier audit you receive an audit report which summarises the observations of our auditors, along with a final assessment.
We offer a platform solution for the management of your supplier audits, where we can upload your checklists, audit results, audit planning and other agreed information. Of course we can also make use of your existing platforms. Just speak to us and we will provide a tailormade concept for your supplier audits, and if you so wish, a contact in the project management area.
Who is allowed to perform supplier audits?
Supplier audits should not be confused with certification audits, which can only be carried out by accredited certification providers. A supplier audit is generally carried out by the customer or by an auditor commissioned by the customer, and involves assessment of the performance capability of the supplier from the organisational and technical points of view. The requirements regarding the auditor are laid down by the customer. We recommend that the auditor has specialist knowledge in the area to be audited and also several years auditing experience. Our auditors have in-depth specialist knowledge and the necessary social and personal skills for smooth and effective auditing. The undertake intensive annual training in order to keep their qualifications absolutely up to date. Please contact us for further information.
What is assessed in a supplier audit?
You can decide if the audits for food safety and quality are carried out on the basis of well-known standards such IFS Food, BRCGS Food or HACCP, or if you would prefer an audit programme tailored to your specific needs. As a certification provider active on the world stage, we can have skills and competence in all the areas of food safety, quality and sustainability. We support you in every country where your suppliers are located.
Is there a checklist, template or questionnaire in order to prepare for a supplier audit?
As a supplier, you are audited by your customers and have to prepare for these second/party audits accordingly. As a rule you clarify the requirements for your processes and products with your customer. If you have a list of these requirements, we will be very please to help you identify suitable standards. We also support companies who would like us to perform their supplier audits to put together suitable requirements. These are based on your market and customer structure and can be specific to each organization.
Supplier audits from TÜV NORD CERT: the benefit to you
We provide reliable and independent advice, and our experienced and expert team will support you in your certification process from the very beginning. Our worldwide TÜV NORD network and the knowledge of many interdisciplinary experts will also be fully at your disposal to cover the international aspects of your business, and so your audit process will remain efficient and transparent.
With TÜV NORD CERT as certification body you will also benefit from worldwide recognition of the TÜV brand. We stand for objectivity, neutrality and competence.
We look forward to your enquiry