Do you have any questions or comments? Contact us!
We will be very happy to answer your questions
Hanover
Thermal hydraulic analysis and fluid dynamics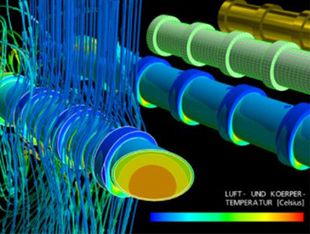 The analysis, evaluation and optimization of the thermodynamic and fluid-dynamic processes including mass and heat transport in pipelines, vessels and other equipment of industrial facilities such as nuclear and non-nuclear power plants as well as chemical plants has been one of the core competencies of TÜV NORD Nuclear for many years.
These tasks are becoming increasingly elaborate as the complexity of such facilities and equipment rises. TÜV NORD Nuclear uses the most recent computer programs and methods compliant with the state-of-the-art to calculate and evaluate the physical processes involving mass and heat transport.
Nuclear regulators make use of the services of TÜV NORD Nuclear as an independent expert organization in this field. TÜV NORD Nuclear also acts successfully as an engineering consultant for the non-nuclear industry.
With the help of the latest computer programs, TÜV NORD Nuclear is able to analyze and assess, also from the engineering standpoint, complex flux and heat transport processes for multi-phase flows and multi-component fluids, whether using one-dimensional or three-dimensional, stationary or non-stationary, finite-element, finite-volume or finite-difference methods according to customer requirements.
Plant dynamics
Containment behavior
Pressure surge calculations
3D flow calculations (CFD)
3D heat transport calculations
Consultancy services:

Damage analyses
Vibration analyses
Thermal economy analyses
Flow optimization