Do you have any questions or comments? Contact us!
We will be very happy to answer your questions.
Pipelines − TÜV NORD has the all-round solution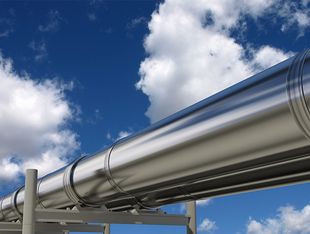 Sometimes you literally need a long line: When the distances between the sources of energy and the consumers, then pipelines ensure that energy is transported to its intended destination. There are numerous aspects to be considered here: The transport of raw materials must be safe, economical and environmentally compatible. TÜV NORD has the all-round solution for pipeline systems.
Our experts provide guidance across the entire lifecycle:
from the routing and planning,
to the construction and operation,
to the modernisation, decommissioning and dismantling.
We provide support even before the construction works has commenced on a new pipeline:
Advice on basic materials, components, welding methods and anti-corrosion protection
Fluidic dimensioning
Assistance with the interpretation of rules systems
Local agency Liaison
Safety analyses
From construction to commissioning
By conducting continuous tests, we ensure consistently high quality, while checking that systems are established in line with regulations.
Compilation of the normative requirements
Structuring the regulatory content
Support in the development of the necessary control mechanisms
Evaluation of the existing operational organisation regarding its safety effectiveness
Documentation development
Acting as a go-between and providing ramp-up support
Examining the draft
Supervising construction and assembly
Acceptance inspections (pressure testing incl. pressure stress testing)
We are also there on hand to provide you with help for any questions you may have during the operations phase of your pipeline.
Preparation of maintenance plans and test concepts
Status assessment
Cause determination of damage events
Damage inspections
Special reports
Support and formal acceptance in event of pressure rises
Evaluation of faults and lifetime estimates (Lifetime Optimization Of Pipelines "LOOP")
Benefit from our long-standing experience in pipeline construction
Independence and neutrality
Specialized expert with long-standing experience
Inspection Centre with accreditation in accordance with DIN [...], e.g. for high-pressure gas lines in accordance with "GasHLVO"
In-depth experience in construction and assembly monitoring
Survey services in accordance with: the regulations GasHLVO, DVGW, GPSG, WHG/ VAWS, Bergrecht/ BIMSCHG, ROFGApproved testing agency for pipelines
Benefit from our expertise to secure your pipeline
Observance of high safety Standards
Reduction of operational interruptions
Increase of acceptance within the population
Improvement of economic efficiency
Reduction of downtime costs and repair costsIncrease in environmental compatibility