Do you have any questions or comments? Contact us!
Do you have questions about biogas or biomass?
Biogas and biomass plants at TÜV NORD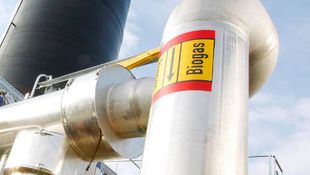 Biomass is solar energy stored in plant form. The conversion of biomass into energy is achieved using different conversion paths and technologies.
TÜV NORD offers a comprehensive service package for plants that generate electricity and heat on the basis of biomass. The focus is on plants for biogas, biogas treatment and feed-in, as well as biomass plants.
Our services include certification, inspection and engineering services. All have the following in common: Assistance from experienced, qualified experts that contributes to compliance with the regulations, process and resource optimisation and plant safety.
Payments and environmental audits
Provision of an auditor approved under the Environmental Audit Act
Determination of the eligibility for payments capability according to the Renewable Energy Law (EEG)
Expert opinion on environmental protection and environmental compatibility (smell, sound, spacing)
Permit applications, permit management
Emission measurements according to BImSch, the German Ordinance on Industrial Safety and Health, and formaldehyde measurements
Measurements of methane loss at biogas treatment plants
Tightness tests
Production of unit certificates for connection to the grid (e.g. CHP)
Performance measurement, determination of Efficiency
Consultations, assessments, tests for:
Process engineering,
Safety concepts,
Explosion, fire and lightning protection
Construction and assembly supervision
Support for the implementation of the BImSchG (e.g. risk assessment) Periodic inspections as an Approved Inspection Agency (ZÜS), safety checks according to BImSchG and water legislation
Seminars for operator training
Operator qualification for plant safety according to the Technical Rule for Hazardous Substances (TRGS) No. 529
One-day seminars based on the employer's liability insurance association requirements
Securing the claim for payments according to the EEG, the German Renewable Energy Law
Certified conformity to international plant standards
Safe plant operation
One contact person for the organisation of all tests Compliance with the requirements of the code for optimising competitiveness, Reputation
TÜV NORD offers a comprehensive service package for plants that generate electricity and heat on the basis of biomass.