Do you have any questions or comments? Contact us!
We will be very happy to answer your questions.
Innovative technology - fun, thrills and safety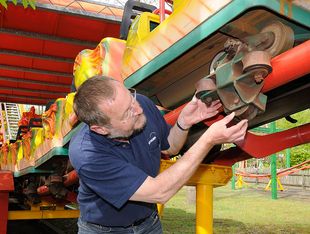 Higher, faster, ever more spectacular – at the fairground speed is everything, and our job is to make sure the fun and thrills are absolutely safe. At the Oktoberfest beer festival in Munich, at the traditional 'DOM' fair in Hamburg and in leisure parks all over the world – the precision machinery that drives the fairground rides has to work extremely hard and earn its keep. However, the electrical and hydraulic systems in the rides are subject to immense loads - and stability and balance are also absolutely crucial. Before the rides start operation, we assess them for safety and stability. Everyone benefits from this - the risk of accidents is minimised, and operating costs are reduced over the long term.
According to the definition of the German standards institute DIN, the "fairground ride" category of machinery and equipment comprises "... equipment which is suitable and intended for repeated erection and dismantling. For example, carousels, swings, giant Ferris wheels, big dippers and giant slides and chutes, platforms, stalls, tents, marquees and structures for aerial artistic displays" - and also platforms and temporary roofing for cabarets and concerts. Comparable equipment which is permanently installed in leisure parks or similar locations is not included in the category of "fairground rides", but is governed by the same standards.
Park safety assessment and certification
Park Maintenance checklists
Management system auditing
Ride assessment and certification
Design review o Inspection during manufacturing
Final Inspection
Inspection and monitoring during Operation
Inspection after modification and repair
Used ride evaluation
Safety for the Leisure Industry
Park Safety Assessment and Certification
Risk Assessment
Ride Assessment and Certification
Training Services
Ride maintenance Training
Ride operator training
Due diligence o Project evaluation
Hotel safety audits and certification
We inspect equipment according to DIN EN 13 782 / 13 814 (formerly DIN 4112), ASTM and the German "Fairground Ride Guideline" (FlBauR) and we will be pleased to advise and support you anywhere in the world. Inspection by TÜV NORD offers the following benefits:
Enhanced customer trust and confidence
Greater cost-effectiveness through safety and functionality
Minimisation of accident risk
Increase in certainty of legal compliance and reliability of your equipment
Fairground ride approval procedure
We are the official approval body for fairground rides in the Federal States of Lower Saxony and Mecklenburg-Western Pomerania, and also in the Free and Hanseatic City of Hamburg. An accredited test laboratory is available to you in the form of our own in-house Institute for Materials Testing, and our non-destructive testing experts are certified according to DIN EN 473.
icon_left
icon_right
icon_info