Expert assistance during the course of the approval process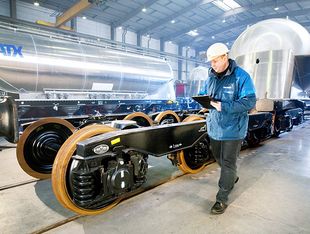 Components, systems and rolling stock require official approval in order to operate within railway systems. Different systems have different conditions for granting this approval, such as:
Standard gauge
Trams
Subways
We provide our clients with expert support during the approval process for all sub-systems of the rail system, including:
Infrastructure
Signal technology
Train safety (track side and on-board)
Rolling stock
Services in connection with the approval process
Alongside providing support during all types of approval processes, we also perform technical assessments of the systems presented for approval.
Within the European approval process, with TÜV NORD Luxembourg, we have been named as a Notified Body (NoBo).
Our SEELAB Inspection Centre is an accredited Safety Assessment Body (AsBo).
The national safety authorities of Germany, France, Austria and Switzerland have recognised us as a Designated Body (DeBo) for the assessment of national requirements.
We are also highly familiar with other approval processes that, due to the country or system concerned, do not follow the regulations set out in Europe. This procedures include the approval issued in accordance with Section 32 of the German Regulations Governing the Construction and Operation of Railways ("EBO"), or the German Regulations Governing the Construction and Operation of Narrow-Gauge Railways ("BOSTRAB").
We conduct product assessments and product qualification procedures on behalf of our SEELAB Inspection Centre, which has been accredited in many areas by the German Accreditation Body ("DAkkS").
We also perform product certifications on behalf of our SEECERT certification body, which is likewise accredited by DAkkS.
We offer specially tailored training programmes in all subjects and specialist areas.
icon_left
icon_right
icon_info
All from one source
Definition / support in the definition of the approval process for the specific Project
Clarification of the authorities' conditions for issuing approval
Definition of the documentation to be issued in order to successfully obtain approval
Assumption of activities of designated agencies (NoBo, DeBo, AsBo) Technical assessment of the development documentation
This might also interest you
Do you have any questions or comments? Contact us!
We will be very happy to answer your questions.
Hamburg