Railway infrastructure at TÜV NORD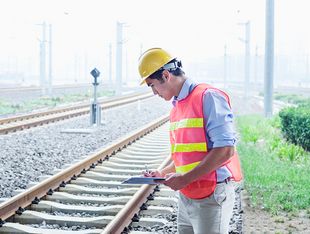 Infrastructure is the basis for a safe and functioning transport system. In the railway infrastructure segment, we examine existing and newly constructed lines, tunnels, bridges, stations, platforms, freight loading points, level crossings and other detailed areas. We will provide you with expert advice about the commissioning and maintenance process, train your employees and perform assessments according to current standards
Our inspections are based on national, European and international system of rules and standards (e.g. "DB-Ril", DIN EN, TSI,..).
In the national context, we also specialise in the rules systems of non-federal railways ("NE-Bahnen") incl. the public and private works railways and connecting railways, and we understand the national and international system of rules for trams, subways, metros and light rail.
In this context, multidisciplinary experts and teams of experts deliver efficient solutions for job descriptions across a range of disciplines. As a Notified Body TÜV NORD Luxembourg, we are responsible for the EC verification of sub-systems.
Inspection and assessment
Conducting inspections and issuing inspection reports
Issuing technical reports / damage reports
Component testing as well as tests in the test lab
Interface infrastructure / vehicle
Status reports and functional testing of structural engineering facilities
Bridge inspections, surveys
Inspections on railway track and points management
Periodic inspections of level crossings
Technical planning and on-site inspections
Assessments of externally recorded inspection and testing results
Independent fault assessment for quality assurance / delivery of quality
Infrastructure-related fire protection surveys / assessment of the evacuation plans
"BOStrab" testing agency services for light rail infrastructure
Assessment of safety management (ISA, CSM) as part of the complete service as NoBo, DeBo or AsBo
EC conformity test and assessment
Consulting and support to the commissioning and maintenance process
Consulting in national, European and international system of rules for standard-gauge (German Regulations Governing the Construction and Operation of Railways - "EBO") and light rail vehicles (German Regulations Governing the Construction and Operation of Narrow-Gauge Railways - "BOStrab")
Consulting in new construction projects, upgrades, operations and dismantling
Assistance during the commissioning process
Assistance in connection with the documentation necessary for commissioning and maintenance
Handling authorities (safety, supervisory and approval authorities)
Strategic consultancy on technical rail issues
Consulting in connection with the interpretation of rules systems
Inspection and preparation of fire prevention concepts incl. all requisite proofs
Consulting in connection with TSI, EC verification, certification process and commissioning in accordance with the Trans-European Railway Interoperability Ordinance ("TEIV")
We can offer you training sessions and presentations on core areas
Structural works for signal, telecommunications and electro-technical systems
Structural works (civil engineering, superstructure, structural engineering)
TSI, EC verification, certification process and commissioning in accordance with the Trans-European Railway Interoperability Ordinance ("TEIV")
Independence and neutrality
Specialized expert with long-standing experience
Expert with EBA [German Federal Railway Authority] recognition
Accredited certification body in accordance with DIN EN ISO/IEC 17020 (DAkkS)
Notified Body (NoBo)
Designated Body (DeBo) Luxembourg
Interim DeBo (DE)
Partner to the state and municipal authorities
State railway oversight agency ("LfB", "TAB")
Associate partner to the German Notified Body ("EBC")
The protection of individuals and the environment
Planning certainty
Avoidance of misinvestments through timely examination of individual sub-systems
Cross-system technical expertise of an integral supplier
Independent testing services in line with current national and international requirements
This might also interest you