Vehicles – an important aspect of interoperability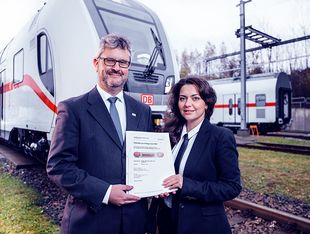 Modern railway vehicles have to fulfil numerous requirements. High demands in relation to attractiveness and speed, as well as economic efficiency and safety likewise entail the increased complexity of design and technology. TÜV NORD can provide you with independent confirmation that your design work is of the right standard, and we will conduct unbiased appraisals and testing services in support of your approval processes. To have your rail operations up and running, we will assist you...
in mechanical engineering questions such as strength, basic materials and welding Technology
regarding the electrics, such as with the insulation, electrical integrity, control station technology and electromagnetic tolerance
in overarching questions such as sound emissions and fire protection
The applicable solutions are initially to be delivered by the manufacturers and operators. However, during the course of the domestic and foreign approval processes conducted by the applicable inspection authorities, it is necessary to present professional proofs such as calculations, test reports and expert opinions.
Support in the area of approval management
Drafting bidding documents and technical specifications
Drafting technical documentation
Optimisation of maintenance processesTraining in all the relevant industry Standards
Strength computations and lifetime analyses
Reporting and Certification
Certification of rolling stock and components (incl. control technology)
Expert reports on safety concepts
Certification of maintenance processes and workshops (maintenance facilities)
icon_left
icon_right
icon_info
We offer you comprehensive consulting and assessment services with international acknowledged experts on all questions concerning vehicle technology mechanics and electrics, as well as operating parameters. The rail experts of TÜV NORD possess well-founded specialist knowledge, aiding you with the technical and functional safety as well as the appropriate design of systems and components.
Cost savings − We know the applicable regulations down to the last detail, and can help you escape retrospective adjustments.
Time savings − We have experience and know how the requirements can be quickly and efficiently fulfilled.
Risk mitigation − We are your specialist partner and can help to avoid recalls, reworking and damage to image.
This might also interest you
Do you have any questions or comments? Contact us!
We will be very happy to answer your questions.