Safe and reliable signalling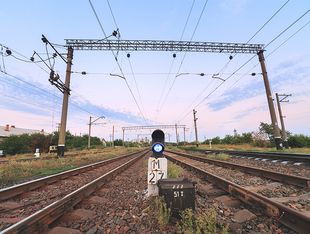 Safety-relevant systems such as signal technology form the basis of modern railway operations. The independent inspection of the technology is an important part of the safety certification for systems and components, which are to go into circulation.
The challenges presented to operators by modern rail systems are being increasingly complex. Signal, telecommunications, control and safety systems are closely linked with one another. To flourish on the market, it is necessary to implement the high levels of safety, performance, quality and interoperability requirements as cost-efficiently as possible.
With the standardised European train safety (ETCS) and traffic control (ERTMS) regulations come new, complex tasks to be fulfilled in the immediate future. These systems are designed to standardise Europe's railways, and will also apply outside of its borders. We are your partner for reliability, safety and efficiency. We offer our customer a comprehensive portfolio of diverse services – and not only in the railway sector. We have a broadly based, worldwide operative team of experts, who can attend to your needs perfectly.
We will guide you during the inspection and certification stage of your products, and provide training to your staff. You would like to avoid costly, time-intensive reworking, and ensure your projects have even greater performance capability? With our services, optimised for your business, we will help you to be even stronger in the marketplace. Do you have any other questions? We'd be happy to provide you with detailed advice. Simply contact us.
ETCS (European Train Control System) area
Alongside the various specific national control and safety system applications, efforts are ongoing in Europe towards achieving an interoperable, cross-border railway system. One of the focal aspects of the work performed by TÜV NORD consists of inspecting the implementation of these European regulations for the operation of an interoperable, functional ETCS.
Inspections of control and safety system components for national deployment
Components and system inspections
Plan and design inspections
Inspection of on-board and track side train control, train safety and signalling Systems
One of the fundamental functional cornerstones of the standardised European train safety system (ETCS), is the secure communication of data. A proprietary communications system (GSM-R) of the rail operator is used to secure the flow of communications between train and control centre. We here at TÜV NORD have in-depth expertise in the area of GSM-R and other telecommunications technologies.
We will help you in the application of national and international standards, and to achieve interoperability between your components
Security for Safety (Industrial IT Security)
"Safety" here means the reliability of a system, i.e. its process reliability and failure safety. "Security" on the other hand means protection against unauthorised intrusion or access to a system.
Sub-areas we focus on in the security area include:
Confidentiality, or privacy: Security against intrusions through unauthorised eavesdropping
Integrity: Protection against the modification of information. This concerns both the modification of the data per se, as well as the modification of the control data.
Authentication: Verification of the identity of the sender of data.
Availability and access: Prevention of system failures, and so ensuring access to the data during an agreed time period.
We here at TÜV NORD, in cooperation with our subsidiary TÜViT, have wide-ranging knowledge in the security of electronic systems. We'd be happy to assist you with all manner of tasks concerning the implementation of standards and regulations in relation to security, thus making your products more secure.
Train control systems have been deployed for over a century now to make rail transport safer. Numerous processes and methods have become established due to the various developments that have taken place nationally and internationally. All systems have one thing in common: they are designed to ensure the safety of rail transport and prevent accidents from occurring.
We will help you to comply with and implement the national and international standards, and to maintain an overview of the complex area that is train safety.
Our internationally operative team of experts can assist you with their impressive range of knowledge. Our experience is your advantage.
icon_left
icon_right
icon_info
Independence and neutrality
Specialized expert with long-standing experience
Expert with ERA recognition
Expert with EBA [German Federal Railway Authority] recognition
Accredited certification body in accordance with DIN EN ISO/IEC 17020 (DAkkS)
Notified Body (NoBo)
Designated Body (DeBo) (Lux)
Interim DeBo (DE)
Partner to the state and municipal authorities (state railway oversight agency - "LEA", (LfB, TAB))
Associate partner to the German Notified Body
The protection of individuals and the environment
Cross-system technical expertise of an integral supplier
Comprehensive support from our experts
Independent, needs-based consulting
Officially recognised expert reports
Economic processes In-depth knowledge of the homologation processes
This might also interest you
Do you have any questions or comments? Contact us!
We will be happy to answer your questions.