Lower energy costs – Greater competitiveness
A certified Energy Management System based on ISO 50001 helps companies to recognise energy saving potentials and introduce corresponding measures in a systematic way. This means that energy costs can be reduced and competitiveness improved. It is also possible to sustainably increase energy performance based on the continual improvement process and increased staff skills.
Moreover, companies can often benefit from energy tax refunds or comparable incentives if they operate a certified energy management system according to ISO 50001.
Legal obligation
In the EU-member states all major companies, i.e. non-SME, are obliged to frequently conduct so called energy audits according to EN 16247-1. And it should be noted that associated companies are taken into consideration when categorising a company as an SME or non-SME.
This is a legal obligation acc. to the Energy Efficiency Directive 2012/27 / EU. Only Companies with a certified management system acc. to ISO 50001 or an environmental management system acc. to EMAS III are exempted from this obligation.
More detailed information on the definition of SMEs can be found here.
Energy management as a contribution to environmental and climate protection
The introduction to the standard emphasises the systematic approach of the standard to enable organizations to continually improve energy performance, including energy efficiency, energy use and the selection of energy sources.
Benefits at a glance
Recognition and use of energy-saving potentials

Reduction of energy costs

Possible reduction of the costs for CO2 emissions

Use of tax relief (tax cap)

Limitation of the energy surcharge

Increased awareness for employees and suppliers

Enhanced corporate image
ISO 50001:2018
The updated version of Standard ISO 50001 was published on 21 August 2018.
In parallel with the Revised Standards ISO 9001:2015 for Quality Management and ISO 14001:2015 for Environmental Management, the "High Level Structure" has now been applied to ISO 50001:2018.
Standardised numbering and naming of the clauses of the standards, and also the use of standardised definitions and reference texts mean that it is much easier to combine different management systems into one overall Integrated Management System (IMS).
On the other hand, the standard also includes new requirements, such as consideration of interested parties and determination of risks and opportunities.
The most important changes at a glance:
Introduction of the "High Level Structure": standardised naming and numbering of the clauses of the standard and standardised definitions and reference texts
Context of the organization: determination of internal and external issues relevant to the EnMS which can have a positive or negative impact on the organization
Interested parties: Determination of relevant interested parties as well as their needs and expectations, and decision which of these requirements should become compliance obligations
Risks and opportunities: Consideration of existing and potential risks and opportunities related to the energy management system and corresponding planning of activities
Management responsibility: Greater duty of the top management to ensure that the desired results are achieved through the EnMS
Energy data collection: Stricter requirements on the methods used for monitoring, measurement and analysis of the energy performance
Schedule for the transition to ISO 50001:2018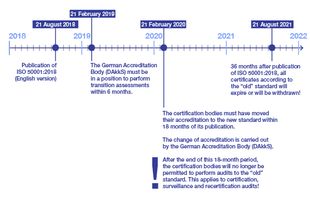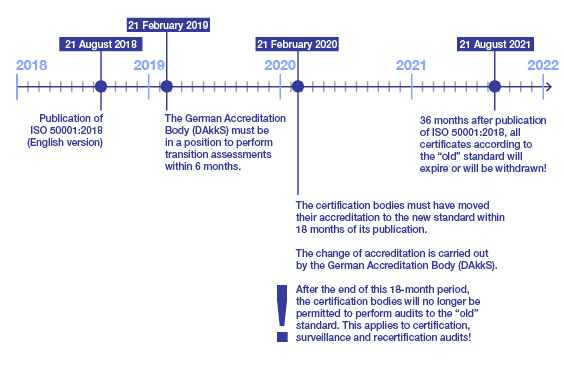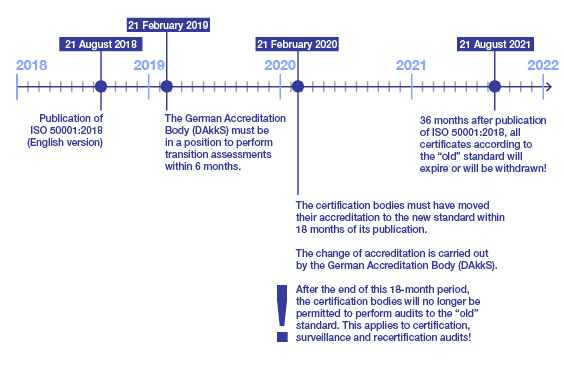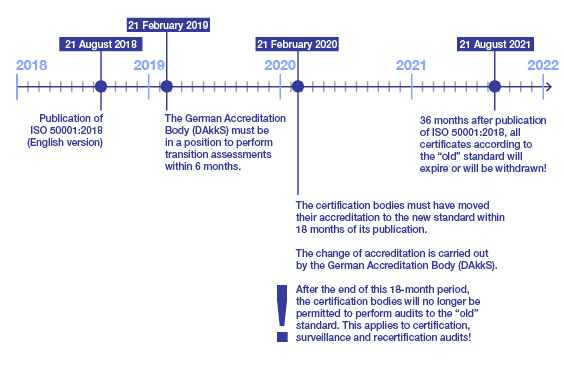 Our experts will be glad to answer your individual questions