Electromobility and Drive Technology (EMC Automotive)
Testing the electromagnetic compatibility (EMC) of motor vehicles and installed vehicle components is required by law for safety-relevant products in order to avoid malfunctions, unsafe operating conditions or even accidents caused by electromagnetic influences on the on-board electronics (e.g. ABS, airbag, etc.). This does not only apply to conventionally powered vehicles. Particularly in the case of hybrid or electric vehicles, specified EMC limits must not be exceeded; compliance with national and international standards is a prerequisite for market launch and for the safety of the entire vehicle. TÜV NORD offers all relevant EMC tests in the automotive and electromobility sector in its EMC laboratory, which is recognized as a technical service by the Federal Motor Transport Authority (KBA), and thus supports manufacturers with their market entry.
Testing and approval of products
in the fields of

"Autonomous driving"
"Car Connectivity" in vehicles
Intelligent transport systems
Car-to-car or car-to-infrastructure
Our service addresses:
Manufacturers and operators from the automotive technology, electromobility and drive
For example producers of assemblies from the areas of

Engine control & hybrid drive
Ignition systems & driver assistance
Lighting technology & power electronics
ABS & EPS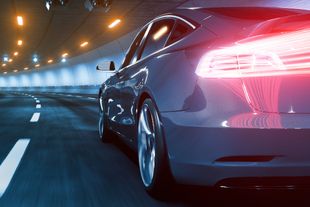 EMC Automotive: Compliance with legal requirements and quality feature
Electromagnetic compatibility is a key quality feature, especially for product manufacturers. Proof of conformity with the applicable directives is required by law and is thus a prerequisite for successful market entry. For example, EMC testing for products that are to be registered with the Federal Motor Transport Authority as part of a type approval (E1 mark) is part of the approval procedure to be carried out by the manufacturer. Non-safety-relevant products may also be introduced to the market without type approval and the involvement of a technical service. However, conformity must also be documented by the manufacturer. In general, a tested product with an E1 mark always has better chances in competition.
Our service portfolio includes tests of vehicle components according to the following regulations
Test procedures according to ECE- R10
Automotive standards and factory standards of leading European car manufacturers
Interference emission according to CISPR 25
Noise immunity according to ISO 11452
Pulses according to ISO 7637 series