Do you have any questions or comments? Contact us!
Your ISO 37301 certification as a basis for legal Compliance
Compliance is becoming an increasingly important business factor at home and abroad, with honesty and integrity now vital elements within successful corporate management in the EU and many other parts of the world. The applicable standard, ISO 37301, is internationally recognized and certification confirms successful introduction and maintenance of an appropriate compliance management system. The CMS can be integrated into the organization's overall management system, as recommended in the Standard.
ISO 37301 describes in detail how a CMS has to be structured in order to comply with international legal standards and regulations. It also lays down requirements for the development, implementation and monitoring of the effectiveness of the CMS and stipulates compliance with social and ethical values. However, the requirements can be adapted and customized to a certain extent depending on the size of the company and the CMS maturity level.
Compliance management systems (CMS) are widely used nowadays, also by many small and medium-sized enterprises.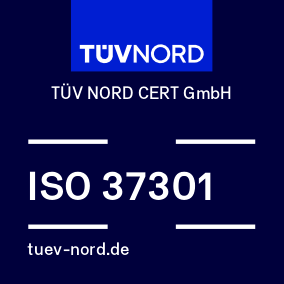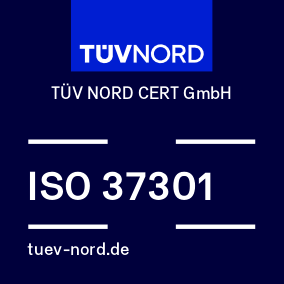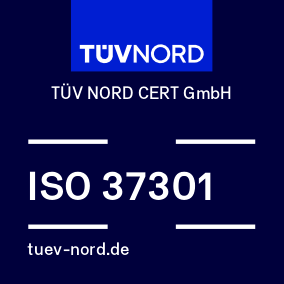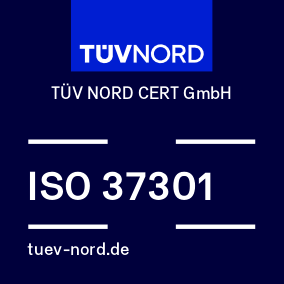 What are the benefits of ISO 37301 certification?
Organizations choosing to operate an "integrated" management system that simultaneously meets the requirements of two or more management systems can also easily include and integrate the requirements of ISO 37301 – based on the High Level Structure of the relevant standards, which applies throughout. In doing so, they can benefit from the existing processes, procedures and work instructions established for the other systems. During the certification process, experts who are qualified to audit a number of different standards check the system for compliance with the various requirements.
CMS certification by TÜV NORD CERT means that those bearing responsibility for corporate compliance can be more certain of the suitability and effectiveness of their principles and processes and their measures for avoidance of compliance violations. It is safe to assume that international standard ISO 37301 will in fact become the universal market standard for compliance management systems, and the certificate can be used to demonstrate to the wider business community that operations are indeed fully compliant.
At the same time, ISO 37301 certification makes it easier to manage European legal requirements for supply chains. This means that the certificate is becoming increasingly popular – and in turn creates new incentives for increasing use of compliance management systems.

What is the audit procedure?

ISO 37301 certification consists of audit preparation, the Stage 1 audit with assessment of the management documentation, the Stage 2 audit (based on Stage 1 results), issuance of the certificate, and also system surveillance and recertification.




How can we use ISO 37301 within our existing system?
What is the difference between ISO 37301 and ISO 37001?
ISO 37301 is closely related to ISO 37001, which was introduced in 2016. However, ISO 37001 focuses on anti-corruption management as a part of the compliance management system. Organizations considering certification of their CMS according to ISO 37001 can efficiently combine both standards with a relatively low expenditure of time and effort.
Certification with TÜV NORD CERT
We certify your organization against the requirements of ISO 37001. Our audits are performed by approved auditors who have the required qualifications and who can guide you smoothly and competently through the certification process. We will be very happy to draw up an individual offer for you.
We are looking forward to your inquiry