TÜV NORD Certification Body (Personnel non-destructive testing)
TÜV NORD operates a certification body for personnel of non-destructive testing, which is accredited according to ISO/IEC 17024. Our certification body offers the possibility to certificate your staff according to DIN EN ISO 9712.
For personnel that implements non-destructive testing on permanent joints of pressure vessels, the certification is an approval according to the European Pressure Equipment Directive 2014/68/EU.
We offer the certification for the following NDT methods, industry sectors and product sectors:
Attention ─ DIN EN ISO 9712:2022
In September 2022, the new DIN EN ISO 9712:2022 will be published. From this date onwards, renewal of certification after 5 years will only be possible by taking a simplified practical examination or by providing individual evidence (structural credit system).
Personnel non-destructive testing − Contact us
Electronic certification passes
Our electronic certification passes mean you can show the procedures for which you are certified quickly and easily. The most important procedures, the relevant levels within them and their validity dates are summarised on the reverse of the pass, and the integrated QR Code means that the data on the pass can be verified online at any time. Although the pass does not replace the certificate itself, it makes day-to-day work easier, as you no longer have to take your actual certificates with you to show the areas for which you are certified.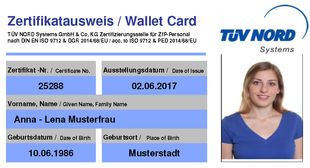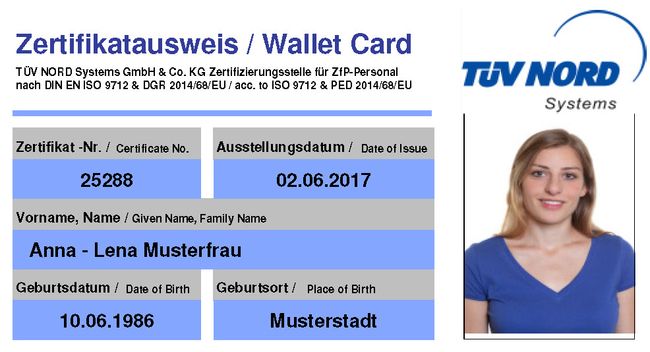 NDT-methods:
Radiographic testing
Ultrasonic testing
Time of flight diffraction technique (TOFD)
Phased array technique (PA)
Magnetic testing
Penetrant testing
Visual testing
Eddy current testing
Infrared thermographic testing
Industry sectors:
Pre- and in-Service testing
Manufacturing
Product sectors:
Castings
Forgings
Welds
Tubes & pipes
Wrought products