Do you have any questions or comments? Contact us!
We will be very happy to answer your questions. +49 (0)800 866 42 11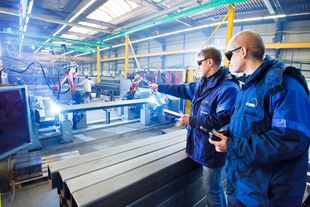 Energy costs represent a significant cost factor to many industrial and commercial enterprises. In sectors such as the paper and metal industry, energy costs can account for 20 to 50% of the total costs of manufacture. The most recent increase in energy prices have shown just how high the proportion of energy costs can be for the production industry and commercial enterprises. It is expected that companies will have to continue to adjust themselves to an increase in energy costs.
The solution - identify energy efficiency potentials and implement measures
Inefficient energy processes can be seen in practically every single enterprise. Whether it be stand-by losses, over-dimensioned systems, the lack of methods for controlling pumps and motors, leaking compressed air networks, the absence of presence detectors for lighting systems – these all mean that the proportion of energy costs in production goods are unnecessarily high. The implementation of organizational and technical measures for increasing energy efficiency will ultimately result in the energy and energy cost savings you want in your company.
TÜV Success Story Energy management system at Aldi Süd receives certification
The Aldi Süd corporate group is the first discounter to receive ISO 50001 certification from TÜV NORD. Applicable worldwide, this ISO standard supports organisations and companies in the establishment of an energy management system. It is aimed at the improvement of systems and processes and for optimising energy consumption. TÜV NORD CERT has tested and approved the energy management system of Aldi Süd in accordance with the ISO standard.
All 1,850 outlets and 31 logistics centres of the corporate group has been awarded ISO 50001 certification. 11 regional companies and 43 outlets were visited as a sample for the certification audit. The audit based on this data was subsequently performed by the head office in Mörfelden-Walldorf near Frankfurt.
You may also be interested in