Do you have any questions or comments? Contact us!
We will be very happy to answer your questions. +49 (0)511/9986-1611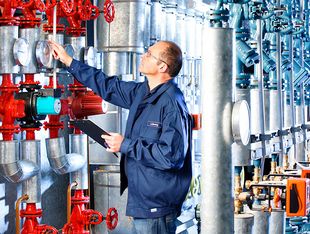 Germany has as its objective, to reduce its primary energy consumption by 20% by 2020 and by 50% by 2050, in comparison to the levels of 2008. This target will not be achievable without a massive push towards increasing energy efficiency.
An energy management system pursuant to DIN EN ISO 50001 represents an appropriate instrument for continuously improving the energy efficiency of enterprises and organisations. The achievable cost reductions strengthen the competitiveness of the company.
The standard ISO 50001, published in June 2011, saw international standards being issued for the first time for energy management systems. The European precursor standard, DIN EN 16001 had already resulted in significant energy savings in German companies.
The path towards a certifiable energy management system
Module 1: Initial consultation / project launch
Analysis of the current energy efficiency status of systems, processes and buildings by way of a walk-through inspection of the properties and visual examination of existing plant and the augmented of the analysis with own data acquisition
Indicating existing energy-efficiency deficits, funding opportunities in the form of a short report
provides a decision-making basis for the future approach
Module 2: Detailed consultation / development of measures
In-depth energy efficiency analysis taking account of internal and external interaction between production, product, buildings/technical building services and energy supply
Elaboration of a comprehensive energy concept with possible optimisation variants, e.g. heating/cooling processes, parameter adjustment and control concepts
Feasibility study with details of scope of investment and return on capital
Concrete recommendations for action regarding implementation of variants
Module 3: Implementation of an energy management system / realisation
Project management
Preparation of the complete necessary documentation during the course of the introduction of an energy management system
Preparation of internal audit
Conducting the management review
Training the employees
Coordination, implementation throughout the entire course of the project, up until achieving an energy management system certifiable energy management system in accordance with DIN EN ISO 50001
Do you have any questions about introducing an energy management system within your company, or do you need any further information? We'd be happy to assist with the planning and future implementation.