We will be very happy to answer your questions.
CSC Corporate Safety Consulting
The operator is responsible for the safety of technical plant and equipment. This is a large and complex task in view of the fact that safety has many aspects, such as, for example:
Occupational health and safety
Environmental protection
Protection of the neighbourhood
Each of these aspects is regulated by its own legislation, and this requires wide-ranging knowledge of the corresponding rules and standards. We have experts in all these areas and offer you customised one-stop safety packages based on more than 150 years of experience as a technical safety service provider. Upon request, we can provide you with an expert who both knows the special features of your plant and equipment and who can coordinate contributions by other specific experts. This means that you receive comprehensive safety advice from one source. Unnecessary costs from duplication of work by several different advisors who may not in fact be needed is avoided. We offer low-cost and comprehensive safety advice at the highest possible level.
Corporate Safety Consulting
Development of risk-orientated safety concepts
Development and introduction of safety management systems and risk management systems, either to cover part of your company or as an integrated system covering all areas
Advice or reports on special themes, for example
- Fire protection in process plant
- Explosion protection
- Equipping of process plant with warning, alarm and safety systems, SIL assessment
Integrated safety assessment of process plant or plant complexes/components, e.g. in the form of a "Safety Due Diligence Assessment" if there is a change of plant Operator
Performance of hazard or risk analyses using systematic methods, e.g. PAAG/HAZOP studies
Performance of Audits
Creation of safety-related documentation for the plant operator, e.g.
- Safety reports, alarm and hazard control plans according to the so-called Major Accident
Ordinance (StFV)
- Explosion protection documents according to the Ordinance on Industrial Safety and
Health (BetrSichV)
Performance and documentation of a comprehensive risk assessment according to the Ordinance on Industrial Safety and Health (BetrSichV)
Safety assessments according to §29a BImSchG ( Federal Immission Control Act)
Advice on safety aspects of plant design in connection with procedures for gaining operating approval
Assessment of effects of hazardous incidents/accidents
Takeover and fulfilment of the obligations of an external hazardous incident representative
Reports within the framework of "land use planning"
Reports on causes of damage
This might also interest you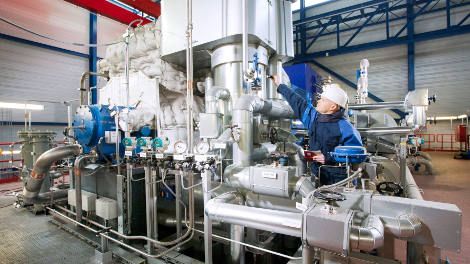 Risk Based Inspection (RBI)
Inspections and maintenance are a cost burden on any...
Read more
Steam and Pressure Technology
Anywhere that steam and pressure are generated, testing must...
Read more