Do you have any questions or comments? Contact us!
We will be very happy to answer your questions.
Full steam and pressure ahead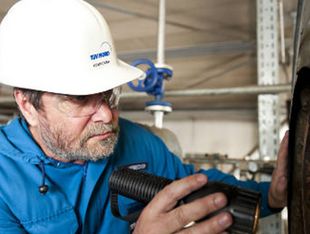 Anywhere that steam and pressure are generated, testing must take place with regard to the manufacture, preparation, commissioning and periodic inspections. As a reliable partner with 140 years experience, TÜV NORD will provide you with an extensive range of services. Our are of operation in steam and pressure technology incorporates, in particular, manufactures and operators of, and investors in:
Steam and pressure Systems
- in the chemicals and petrochemicals industry
- Energy suppliers
- Industrial facilities
- Public utility Providers
- Small and medium-sized companies
Liquid gas systems and liquefied gas tanks
Power plants
Biogas plants
Other steam and pressure systems
Everywhere that planing takes place, chippings will fall. We take care of your safety so that you can concentrate on your important business. In consultation with you, we cover your specific test requirements in the area of steam and pressure technology. For instance, we will check pressure vessels, steam generators, liquid-gas systems, biogas & biofuel plants, as well as their systems and components, for you.
Coordination of the overall conditions for the project with the authorities (for approvals, permits, etc.)
Creation of details for the scope of investigation, testing or monitoring plans
Testing of production systems and documentation, e.g. welding plans, sequence testing plans, certificates etc.
Construction monitoring and inspection of the assembly and installation of systems and components
Inspection and evaluation of:
- Leak test and strength tests on components and Systems
- Safety equipment on components and plants across the entire system
Training and further education
We consider the qualification of your employees to be of the utmost importance. For this reason, we offer additional training programs in the area of steam and pressure technology.
Qualification of your employees as persons competent to inspect pressure vessels and pipelines in accordance with section 3 of the Operational Safety Ordinance (BetrSichV)
Qualification of your employees as persons competent to supervise steam boiler installations in accordance with section 2 of the Operational Safety Ordinance (BetrSichV)
Seminars on the Operational Safety Ordinance (BetrSichV) Workshops for calculating pressure-bearing components on the basis of the DIMy program system, with the following focus Areas
Basic Training:
- Flange calculation
- Calculation of total stress at pressure vessel adapter Connections
- Introduction to an examination of load changes
Training and further training of existing boiler operators as qualified persons in line with section 2 of BetrSichV to supervise steam boiler installations
Training and further education
Everywhere that planing takes place, chippings will fall. We take care of your safety so that you can concentrate on your important business. In consultation with you, we cover your specific test requirements in the area of steam and pressure technology. For instance, we will check pressure vessels, steam generators, liquid-gas systems, biogas & biofuel plants, as well as their systems and components, for you. In this respect, we offer you the following services:
Coordination of the overall conditions for the project with the authorities (for approvals, permits, etc.)
Creation of details for the scope of investigation, testing or monitoring plans
Testing of production systems and documentation, e.g. welding plans, sequence testing plans, certificates etc.
Construction monitoring and inspection of the assembly and installation of systems and components
Inspection and evaluation of
- Leak test and strength tests on components and systems
- Safety equipment on components and plants across the entire system
icon_left
icon_right
icon_info