Do you have any questions or comments? Contact us!
We will be very happy to answer your questions.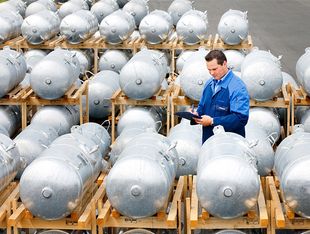 Mandatory but not always easy to apply. The EU directives only provide basic safety requirements (Annex I). We support your position in the market by assisting in the implementation of EU directives and in the application of appropriate standards and regulations.
The Pressure Equipment Directive covers the design, manufacture, and conformity assessment of pressure equipment with a pressure of more than 0.5 bar. This includes pressure vessels, boilers, and pipelines, as well as pressure accessories (e.g. valves) and safety accessories (e.g. safety valves) and the assembly of pressure equipment components. Pressure equipment is used in many fields, in manufacturing, in small and medium-sized enterprises, as well as in large-scale industry such as in refineries, chemical plants, and power plants.
Presumption of conformity: Harmonised" standards meet EU requirements
Because the Directive only lays down basic security requirements, the application of appropriate standards and regulations is required. One example is DIN EN 13445 for unfired pressure vessels. The presumption of conformity applies to this "harmonised" standard – the security requirements named in the EU directive are therefore regarded as being met. Other regulations (e.g. AD 2000) can be applied if the basic safety requirements are met. We assist you in selecting the appropriate regulations for you.
TÜV NORD supports you in implementing the directive
We conduct analyses, tests, and certifications in our DIN laboratory and the testing, monitoring, and certification centre. We are a recognised EMPA test centre according to LRV and VKF and advise you on planning, equipment, and layout of pressure and thermal equipment. And for chimney stoves, pellet stoves, fireplace inserts, and slow combustion ranges, we are the right address.
icon_left
icon_right
icon_info