Do you have any questions or comments? Contact us!
We will be very happy to answer your questions.
Hamburg
Grids − Energy interlinked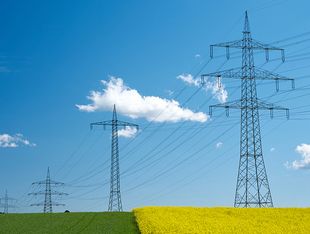 The fluctuating in-feed of power from renewable energies means that networks are subject to large loads: Originally designed for the transport and distribution of centrally generated power, they now need to be transformed into collection networks, because ever more consumers are simultaneously becoming generators.
To ensure that the customary high security of supply is not jeopardised and that voltage fluctuations remain within permitted limits, network operators require precise information on the behaviour of the decentralised feeders in relation to the network parameters. It must also be clear what maximum outputs will be in-fed, and that a system will not disrupt the network operation.
TÜV NORD supports feeders with type and project certifications, and enables them to have unobstructed, secure access to the network. With our interdisciplinary support in grid development, we offer network operators a comprehensive range of services:
Interdisciplinary support for grid development
Environmental assessments
Analysis of weak points, and optimisation
Specialist electrotechnology reports
Construction technology
Quality assurance and construction supervision
Plant safety and fire protection
Legal support to projectsProject and approval management
Secure and stable network
Grid connection certification for generating plant and their components (component certification and plant certification)
Support and guidance in all issues concerning connection evaluation and certification
Measurement of voltage quality and harmonic evaluation (appraisal of sources of interference) at grid connection points within the network
Protection testing on generating units and transfer stations within the network
Incident analysis (impermissible deactivation of systems)
Access to bundled expertise (technical, legal and organisational)
Avoidance of cost-intensive interfaces
Consistent support across all project phases
This might also interest you